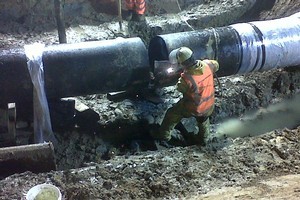 Gas supplies will be gradually restored to all customers by mid-afternoon after repairs to the damaged Maui pipeline were given the all-clear.
Supply to the upper North Island was disrupted after a ruptured seam was discovered in the pipeline in rural Taranaki early Tuesday morning.
Teams worked around the clock to repair the pipeline, but a 24-hour wait was required before the welding work could be re-tested and the repairs certified.
Vector today said independent certification was granted overnight and purging and re-pressurisation of the isolated section of pipeline was completed this morning.
Retailers were advised at 4am that they could restore supply to all customers.
Gas supply was earlier restored to essential services including hospitals, most of the dairy companies, small businesses and small users of gas, but major users have until now been unable to reconnect.
Vector said restoring supply needed to be done in a staged and managed way to maintain the integrity of the system - a process that required close and careful monitoring.
Commercial customers should not use gas until advised by their retailer.
Vector chief executive Simon Mackenzie said he was pleased the Maui pipeline was back in service and that the last remaining customers would be brought back online.
The Vector pipeline, which has continued to supply gas to Auckland, has now been reconfigured to normal operation.
Acting Energy and Resources Minister Hekia Parata thanked the sector for their collaborative efforts since the outage began.
"And, of course, the quarter of a million Kiwi homes that reduced their use to make it possible to spread the capacity of the second Vector pipeline that flowed throughout," she said.
"It has been this collective effort that has seen the pipeline repaired and the outage managed in such a timely manner."
- APNZ