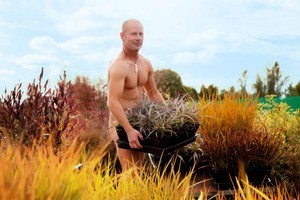 A hardy group of real Southern men from the small town of Tuatapere, Southland, have shed their inhibitions - and their clothes - to star in a saucy calendar.
About 20 farmers, sheep-shearers, rugby players, woodcutters and a whitebaiter have stripped to raise funds to fix the crumbling roof of their local swimming pool.
The unlikely pin-ups were revealed in all their glory at a launch last night in the town about 80km from Invercargill.
Mr August - aka nursery operator Justin Lewis, 40 - revealed that some feared freezing temperatures could do permanent damage to body parts.
He said the biggest problem was keeping the project quiet.
"We were determined to keep everything a big secret in Tuatapere, which wasn't easy as there are only about 200 houses," he said. "Everyone in town knows someone who is in the calendar so there is now no hiding place for those involved.
"It is all pretty tasteful and everyone was carefully positioned so they weren't showing too much."
The hunky "models" were chosen by a panel of three local women.
"The guys range in age from their 20s to 50 and we didn't want a bunch of gym-fit blokes," Lewis said. "Real Southern Men wouldn't go to the gym anyway and we wanted to showcase real guys in local occupations to make things a little bit different."
The boys have female admirers from as far afield as the United States, Australia and the UK, thanks to a campaign on Facebook.
"The pre-orders have been impressive and if we end up raising about $10,000 for the community pool, it will all have been worth it," Lewis added.
The calendars cost $20 and are available from www.tuatapere.org