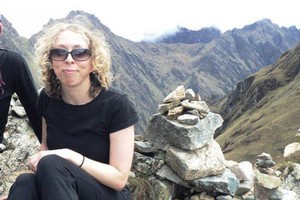 When the language of love is lost in translation, Kiwi travellers are jumping online to sustain relationships.
Auckland nurse Philippa Todd started a new friendship in Argentina last year. She couldn't speak Spanish. Her friend had passable English. No problemo - bring in Google Translate.
The pair spoke through the online translator until Todd's friend improved his English. She said many fellow backpackers used the web service with new South American friends - and lovers.
"A lot of people do it if they're in a foreign country. New Zealand offers no free Spanish lessons so you're going to use whatever tools you can to communicate. With some people I met, I used it all the time, every day."
Todd said people who couldn't be bothered carrying clunky phrase books, or could not afford Spanish lessons, were keen on web interpreters.
While Google Translate was not the most romantic way to court, millions of people used the internet to find love.
Peter Griffin from the Science Media Centre said liaisons conducted through Skype and online chat services were now common. He said translators like BabelFish were a logical progression from online matchmaking.
Griffin used the web to translate scientific documents but said the "nuances" of love were likely lost in translation.
"Translation services are still at a stage where they're not an exact fit. Especially the online language people use - like the LOLs - that's not going to work very well."
Romantic phrases via Google
English: I love you.
French: Je t'aime.
German: Ich liebe dich.
Italian: Lo ti amo.
Portuguese: Eu te amo.
Spanish: Te amo.
English: I'm pregnant.
French: Je suis enceinte.
German: Ich bin schwanger.
Italian: Sono incinta.
Portugese: Estou grvida.
Spanish: Estoy embarazada.
English: Will you marry me?
French: Veux-tu m'épouser?
German: Willst du mich heiraten?
Italian: Mi vuoi sposare?
Portuguese: Quer se casar comigo?
Spanish: Quieres casarte conmigo?
English: You should wash.
French: Vous devez vous laver.
German: Sie sollten waschen.
Italian: Si dovrebbe lavare.
Portugese: Voc deve lavar.
Spanish: Se debe lavar.