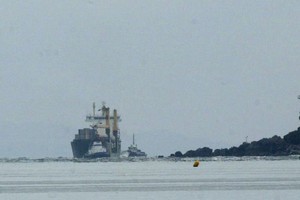 Relieved officials were narrowly spared a repeat of the Rena disaster when a second container ship ran aground at Mt Maunganui yesterday. No oil leaked into the sea.
The grounding of the 133m MV Schelde Trader in the morning came three weeks after the MV Rena slammed into Astrolabe Reef 22km away, where the container ship remains stricken.
Yesterday's incident - blamed on a mechanical failure that cut the ship's power and sent it heading towards the base of Mt Maunganui without steering controls - has sparked fresh calls by the Maori Party and the Greens for wider investigations into the shipping industry.
"It's fantastic to hear there's been no oil spilt, there are no injuries and that it was a comparatively minor incident, but it does raise some serious concerns with two accidents in around a month's time at New Zealand's busiest port," Green MP Gareth Hughes said.
Bay of Plenty Regional Council spokesman Eddie Grogan said no oil leaked from the Schelde Trader and it appeared the ship had escaped with minor damage.
The vessel, which was leaving for Noumea when it struck North West Rock at 10.35am, lay grounded for about 20 minutes before it was refloated and towed back into port.
Tauranga woman Petra Sauter had been walking around the Mount with her husband.
"You could hear it crunching against the rocks. We were just absolutely dumbfounded and thinking, surely this can't be happening."
Others walking along the base track could only shake their heads at the grim co-incidence.
Mr Grogan said such incidents were uncommon - he could cite only one other power failure in the last 18 months - and did not believe there were any difficulties with shipping channels.
"I wouldn't think [of] it as a difficult harbour to navigate, especially for a vessel like this.
"I guess there are some challenges in terms of tidal currents ... but there are a lot of vessels that go in and out of the harbour and do so safely."
Meanwhile, salvors on board the Rena were clearing oil from the remaining tanks as divers continued building a corridor through the ship to the submerged starboard tank.
Salvors had pumped off 882 tonnes, leaving just over 500 to go.
A light oil slick remained within an 8km radius of the ship but was not heading towards Coromandel and nearby marine reserve Mayor Island, as was feared.
Five penguin enclosures at the wildlife response centre at Mt Maunganui are now complete, and five more are being constructed