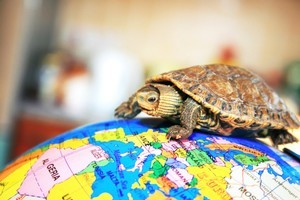 The excited chatter of littlies heralded the start of a new term at Appleton Kindergarten in Dannevirke on Tuesday.
However, staff said they got a "heck of a shock" when through the door came Dennis.
"It was around lunchtime and he just strolled in as large as life and sat down, waiting for mat time," said teacher Viv Murphy. "We just couldn't believe it."
Dennis isn't just any ordinary kindergarten pupil, in fact he's known as something of a hard-case houdini - an escape artist turtle.
Dennis did a disappearing act three-and-a-half weeks ago, sparking a huge search by the children, staff and neighbouring homeowners.
But despite a daily visit to the kindergarten by staff member Fiona Robson during the holidays, Dennis was a no show.
"When he sauntered back in on the first day of kindy we were all tickled pink and even his fellow tank-mate, Speedy, was pleased to have Dennis home," Viv said.
"Dennis just made a beeline for the middle of the mat and waited."
Although no worse for wear, kindergarten staff say they haven't a clue as to Dennis' whereabouts over the holidays.
"He certainly didn't send any postcards, that's for sure," Viv said.
Kindergarten staff member Hilary Hirst said if Dennis' disappearance was unusual, his return was "bizarre".
"It's almost like he had been waiting for the children to return before coming home too," she said.
This was the second time Dennis had left home. He took off in 2007, coming back much worse for wear, staff said.
"This time his claws are fine, he's fit and healthy, so he's just been off travelling or snoozing. In 2007 it was obvious he had been stuck somewhere," Viv said.
The kindergarten children are delighted to have the surprisingly swift mover back.
"He's happy, he's smiling," said one.
- APNZ