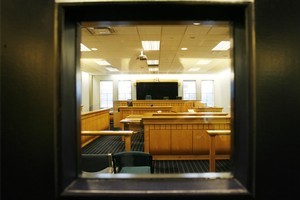 The actions of a woman jailed today for a $1.2 million fraud against a Wellington non-profit benefit society have dealt its associated credit union a "fatal blow,'' says a spokesman.
Mike McBride, president of the Hibernian Catholic Benefit Society and chairman of the Hibernian Credit Union, revealed the union is being forced into liquidation, although the society would carry on.
Credit union accounts represented the life savings of some elderly members.
"Generally, these are not wealthy people,'' said the retired Inland Revenue tax investigator, who did not personally lose any money.
The ongoing theft by former trusted employee Susan Hagai, 45, had adversely affected the benefit society, which was established in 1869 to provide mutual aid and support, such as life assurance, housing loan and funeral costs.
A credit union set up later to provide savings and loan facilities became a separate legal entity in 1988.
Mr McBride said all members of the society had been affected badly by the fraud, but none more so than the 458 Credit Union participants.
They had suffered "a very real and tangible loss'' and been told they could expect to lose at least half of their savings.
Some had put the money aside for a holiday, a new car, medical treatment or ``other hopes and dreams''.
The reaction had been disbelief, anger, tears and disgust, he said.
Branches of the society and trusts with accounts with the credit union would be severely limited in the benefits and grants they could offer.
Mr McBride said the credit union had assets of less than $80,000 remaining. The costs associated with placing it in liquidation would further reduce the funds available to redistribute.
However, the society would be able to recover from the fraud, thanks to its stronger position - assets of just under $10m.
"But it, too, has been grievously hurt.''
Both the society and the credit union had spent a considerable sum of money identifying and tracing the fraud _ which extended over at least six years _ and getting legal and other advice. Those costs had topped $154,000 and continued to rise.
Some members had been devastated emotionally as well as financially, said Mr McBride.
"But for everyone it is the fundamental betrayal of trust over such an extended period of time that hurts the most.''
He said Susan Hagai had been one of a close-knit team of staff since 1994 and members and other employees had built up a lot of trust with her.
They were devastated that someone they were dealing with for financial assistance was, at the same time, "helping herself'' to society and credit union funds.
"Susan Hagai's greed and breach of trust have deeply hurt many, many people.''
Despite that, Mr McBride said outside the court: "There is always room for forgiveness.''
People were being tempted constantly but it was a matter of whether they acted on that temptation.
About Hagai's four-year, two month prison term, Mr McBride would only comment: ``The biggest sentence is that she has lost her freedom and she is not going to see her children on a daily basis.''
- APNZ