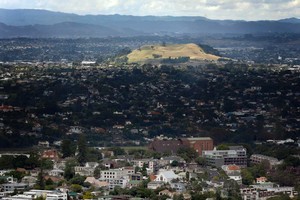 Mayor Len Brown pays all the ritual acknowledgments to heritage and the environment that any smart politician has to these days. But when it comes to fronting up with the money, he's just as tight-fisted as his predecessors. a month ago, he was enthusing about the need to take better care of our volcanic heritage at the launch of a new guide to Auckland's cones. Yet yesterday, when he unveiled his Long Term Plan, his 10-year blueprint for "transformational shifts" under his leadership, the cupboard proved bare.
At the top of a group of projects listed under "Mayor's proposed changes to baseline budget," appears Volcanic Cones, which suggests someone in the mayor's office must have given them a passing thought. But the grand total of cash to shower on the cones is listed as $0. Zilch. The long-neglected Hauraki Gulf Marine Park fares little better. It gets a token extra $400,000.
Heritage on wheels does better, even if it is heritage borrowed from a Melbourne tram museum. More than $9 million is budgeted to extend the Wynyard Quarter tram folly through to Britomart.
Deeper in the documentation is a tentative entry of $13.86 million for the "acquisition and renovation" of the St James Theatre in 2013/14 with a cautionary note that this requires "prioritisation." As the resurrection of the St James is usually priced at $60 million plus, the mayor's transformation plans for this icon seem to be more a changing of the mothballs than a rebirthing.
The proposed budget "will allow us to get on with building an even more liveable city." But surely a truly liveable city is one that actively preserves and protects its heritage.
What stands out in the long-term plan is how the mayor's obsession with building a $2.5 billion inner city rail tunnel has totally lop-sided Auckland's future planning. Heritage, the Hauraki Gulf Marine Park, swimming pools and all-weather sports grounds all have to take a backseat to the tunnel.
Mr Brown is proposing central government pay for half - though the present government rejects this - and that a further 31 per cent comes from regional taxes or tolls or some other form of alternative funding. Just how much that leaves the ratepayer is anyone's guess.
Several polls have shown that Aucklanders support the mayor's vision of an inner-city rail loop. But there must be many who, like me, worry that Mr Brown's gladiatorial confrontation with the government over this hole in the ground will act as a brake and a distortion on other city-funded development.
The second biggest spend on the mayor's wish list is $123 million over ten years on events and marketing. I guess we should be thankful for small mercies. The documents reveal the bureaucrats wanted $222 million to spend on hosting "major events" and "investment in visitor economy."
The council now goes through a nine-month consultation process, so there is time for second thoughts. It would be nice to think the zero spend on volcanoes, for instance, is a printing error, but I fear not.
This disrespect for heritage is also a highlight, or should I say lowlight, of the recently released Auckland Plan, the official long-term strategy document for the city. Apart from the odd footnote and aside, Auckland's cultural and built heritage is strangely absent in that publication as well.
If you want to attract visitors to Auckland, it makes more sense to spend some of the $123 million budgeted to lure them here on preserving and enhancing the old buildings and upgrading the unique volcanic field that identifies Auckland as the destination they want to visit.
It would make the city more liveable and attractive to visitors and Aucklanders alike.
Auckland Council is on the verge of signing up to the Government-engineered co-governorship with local Maori of between 13 and 17 of the city's volcanic cone reserves.
The council also wants to see the colour of the Government's money before it agrees. Which is fair enough. But if the Crown is expected to dig into its pocket, then surely, so should Auckland Council.