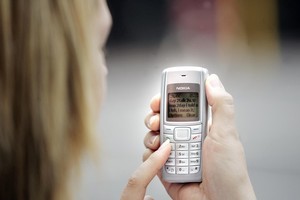 A Napier teenager sparked a twin-city police hunt as she sent 187 text messages to her ex-boyfriend in less than eight hours and claimed she was being kept in the boot of a car by another former boyfriend, Napier District Court was told yesterday.
But after finding her alleged captor knew nothing of the events, purportedly kidnapped Jennifer Louise Mackey was found safe at home - her claims all a ruse to get her most recent boyfriend to pay her more attention.
Appearing before Judge Bridget Mackintosh and pleading guilty to a charge of wasting police time, she was sentenced to 40 hours' community work.
Defence counsel Alan Cressey said Mackey didn't realise police would be called, but Judge Mackintosh said her ex-boyfriend was justified in being concerned.
"The police line on the ground is thin enough without these sorts of antics going on," she said.
Police prosecutor Sergeant John Ashfield said the messages started flowing about 6pm on October 12 and continued until early in the morning.
Several police units from Napier and Hastings were assigned to look for the young woman, particularly around Clive.
Staff were unable to carry-out other important duties on a night where several other violent incidents were unfolding, the police summary said.
It was not the first incident involving cellphones which had tied up resources in recent months.
In June police and firefighters were left angry and frustrated by attending to three calls in Napier, identified as coming from a cellphone, where the caller had reported a house fire.
Two of the incidents were in Marewa and one on Napier Hill.
"It is very concerning because there could be someone in genuine need while we are all tied up dealing with a false call," Senior Sergeant Eion Evans said at the time.
Commenting on yesterday's case, Hastings Youth Services Co-ordinator, Sergeant Ross Stewart, said texting and social media was often used as a "weapon" in the cases of juvenile offending.
"It's easy and anonymous to send a text by the fact you don't have to physically confront the person you're sending it to," Mr Stewart told Hawke's Bay Today.
"It's easy to do as opposed to fronting up to someone.
"Young people can be very impulsive and when it's as easy as pushing a button then that's the danger as they often don't think of the consequences," he said.
"And of course when you send a text from your phone you've left your footprint behind."

For more articles from this region, go to Hawkes Bay Today