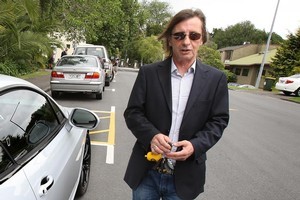 Tauranga-based AC/DC drummer Phil Rudd is opening the doors of his restaurant at the Bridge Marina for a private dinner party tomorrow before opening to the public on Tuesday.
The restaurant has undergone extensive refurbishment since Rudd bought it in August, with walls decked in black and gold-flecked wallpaper and a raised floor which houses Rudd's drum kit.
A fireplace, dark wood tables and black suede chairs give a rock star feel, while above the fireplace sits previously unseen AC/DC memorabilia.
There is also a private function room and Rudd has bought the workman's cafe on the other side of the restaurant, which he intends to turn into part of the restaurant.
"I am excited to be opening. It is going to be a fun place to eat great food and hang out. It is not pretentious; we are not interested in the 'scene', just a good night out and superb dining experience," Rudd said.
Maitre'd Daniel Rodgers-Purdie said the restaurant was already proving popular.
"We are booked up every weekend until Christmas."
The private opening tomorrow was not the huge party originally planned, Rudd said.
"I haven't invited the band all at once due to schedules but they will be coming to eat soon. I don't want to do the big opening but keep it soft at the beginning in the run-up to Christmas and summer.
"If you're coming here to see Nicky Watson, forget it. It is a quiet, each-to-your-own place. Sure, make some noise and have a good time, but it is not somewhere you come to be seen."
The restaurant seats 120, including 60 outside, and there are plans to develop it further.
Chef Cody Hogg has prepared an extensive lunch and dinner menu which includes a set menu, buffet option and tapas.
"We want locals to come and the menu is priced accordingly but there are special items; for those occasions when you do want crayfish and champagne, you can get it here," Rudd said.

For more articles from this region, go to Bay of Plenty Times