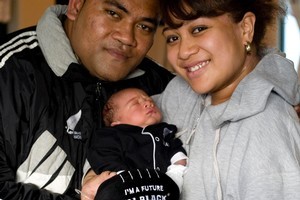 A rugby-mad Auckland family have ensured their Rugby World Cup euphoria will never die after naming their newborn son after the game's greatest prize.
Jayden Webb Ellis Namoa arrived into the world at 2.08am on Monday, just a few hours after the All Blacks clinched the baby boy's namesake at Eden Park.
The heart-stopping match was made all the more stressful for mum Sylvia Namoa, who braved multiple contractions during the game before feeling safe enough to leave her Otahuhu home for Middlemore Hospital.
"On the night, I told myself to hold it in because we needed to watch the game," she told the Herald.
"As soon as we knew they were going to win, we were away to the hospital."
Fittingly, Jayden is biblical for "thankful", and tacking on Webb Ellis was a "spur of the moment thing", she said.
"We were so excited and so happy that we just decided to add in the Webb Ellis. People laughed it off when they first heard it - the doctors and everyone in the hospital thought it was a great name."
With a birthweight of about 3.5kg - just a kilogram less than the coveted trophy - tiny Jayden was only the size of a rugby ball at best, she said.
Mrs Namoa was born in 1987 - the year of the All Blacks' first Cup glory - and her eldest child, son Siokateme, was born a week out from the 2007 Rugby World Cup final.
"He would have had some sort of All Black name as well if they hadn't lost to France and won it."
A chuffed Naufahu Namoa said the birth of his second son was a double-delight after watching his favourite team's victory.
"I'm really, really happy," said Mr Namoa, who has been obsessed with rugby since growing up with the game in his island home of Tonga.
"Now as my son grows up, we'll always be reminded of when New Zealand won the Webb Ellis Cup."
The couple have draped an All Blacks flag above their new baby's cot and have plans to field him in a Rippa Rugby side when he turns 3.
"Hopefully, he'll play for the All Blacks one day," Mrs Namoa said.
"But with all of his gear he's already one of the team."
Asked if Jayden could soon be joined by a little brother named Richie, Piri or Stephen, she laughed.
"I think I'll save it for the next World Cup."
Meanwhile new mum and rugby fan Rachelle Atherton says giving birth was more intense than watching the All Blacks hang on to beat France by one point in the World Cup final - but not by much.
The 34-year-old Hamilton woman gave birth to son Jude William Atherton nine minutes into Sunday's match - but still managed to catch the last minutes of the game.
Jude arrived 10 weeks early, weighing only 1.7kg.
It was a huge shock for Rachelle and her husband Scott, who never expected their son to arrive at such an important time.
"But Jude had other plans," she said.
"Definitely the delivery was more intense but it was a nerve-racking final. I'd had a few updates throughout [the delivery], but to see the score the way it was, was quite a shock," she said.
Mrs Atherton's water broke last Wednesday and she was admitted to Waikato Hospital in preparation for the delivery.
But the rugby fan didn't want to miss the final.
"I begged them for a leave pass to watch the final at my dad's house."
However, she went into labour about 3pm and Jude arrived about six hours later, giving the new parents just enough time to catch the final nailbiting stages.
"We managed to sit down in the foyer of the delivery suite and watch the last 10 minutes of the game. It was very surreal," said Mr Atherton, who is Australian.
They named him Jude because Mr Atherton is a big Beatles fan and "it's a strong name", he said.
The couple believe their son may be destined to play rugby, given the timing of his birth, but would be happy for him to represent New Zealand or Australia.
"He's our little Anzac," said Mr Atherton. "We're going to let him grow up and decide who he wants to play for."
Jude is being kept in an incubator in hospital to be monitored but his parents hope to have him home by Christmas.
- Additional reporting: APNZ