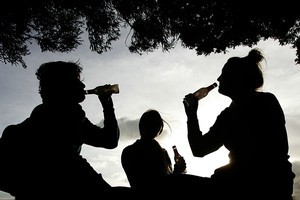 New Zealand's chlamydia rate is getting worse because of excessive drinking by young people and a Hollywood-inspired culture of sex without commitment, specialists say.
Nationally more than 8000 cases of the sexual infection were treated in clinics last year, up from 6959 in 2006.
"We have all the media in the world encouraging people to have sex as if it's okay with no real emotional involvement. All the big Hollywood stars do it, they do it on all the sitcoms on television," said Auckland sexual health specialist Dr Janet Say.
Throughout much of New Zealand, testing volumes and reported infection rates for chlamydia trebled in the decade to 2008, shows a study led by Dr Jane Morgan, Waikato Hospital's head of sexual health services.
The team also found that hospital admission rates were increasing for young women with pelvic inflammatory disease - a complication of chlamydia, a highly infectious, sexually transmitted disease which, for many, has no symptoms.
"The recent rise in hospital admissions for pelvic inflammatory disease amongst women aged 15-24 is a concern," says a summary of a presentation Dr Morgan will give to the New Zealand Sexual Health Society conference in Auckland on Saturday.
"It's alarming," she said yesterday.
A separate study Dr Morgan was involved in, comparing New Zealand, Australia and four European countries, found that diagnosed chlamydia rates were increasing in all six and were highest in New Zealand.
From 1999 to 2008, pelvic inflammatory disease rates fell in all the study countries except New Zealand, which also had the highest rate of another chlamydia complication, ectopic pregnancy, in which an embryo develops outside the uterus.
Testing for chlamydia is done among people who seek medical help for symptoms, but also "opportunistically" when women go to a clinic for a pregnancy test or for contraceptives.
"My opinion is that we are seeing more chlamydia," Dr Morgan said yesterday. "Certainly that's what I see as a physician."
Drinking played a big part, she said, based on information from patients.
"What we see is that when people are drinking, they either have sex with someone they wouldn't ordinarily have sex with, or they don't use a condom when they ordinarily would."
She said other research showed young people understood the importance of using condoms, but alcohol use meant people's behaviour was often at odds with their knowledge.
Dr Say said she was horrified by the increased infection rates and she agreed alcohol was a big factor.
Dr Morgan said women were more likely than men to be tested for chlamydia. A Waikato audit had found many sexual partners of positive cases were not followed up, making the case's treatment futile.
The infection
* Chlamydia - a sexually transmitted bacterial infection.
* Treated with antibiotics.
* Estimated that one in 10 young people are infected.
* 70 per cent have no symptoms.
* Can cause infertility and genital disorders.
* Properly used condoms can prevent spread.