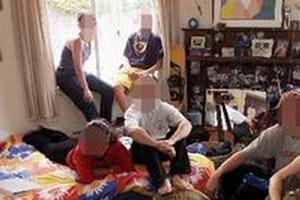 Students struggling to cope with everyday living costs are being forced to live in overcrowded flats in Rotorua.
Tertiary students flatting in the city are sharing bedrooms and using living rooms as bedrooms to save money on rent, with four students living in one-bedroom flats and up to 20 people living in three-to four-bedroom properties.
The Rotorua students say they can't secure enough work to help with living costs, so sharing rents with groups of other students is a way to save money.
Waiariki Institute of Technology student Marlise de Vries, who has been elected head of Waiariki Institute of Technology's Student Association for 2012 and is currently vice-president, says she has heard about students living in overcrowded flats with up to 20 people staying in a two to three-bedroom house.
In most cases there were three to six people living in a two-bedroom flat or up to 20 people living together, sleeping on mattresses in the living room.
"Most come from overseas and they're moving to an empty house," she said.
It was common for international students to live in such a way because they arrived in New Zealand having to pay international student fees and couldn't afford living costs. She said some also used foodbanks because they were struggling.
Two Waiariki International students said they both lived in separate one-bedroom flats with three others. They shared bedrooms and the living area with other students, paying rent of about $40 each.
While it was hard without their own space, the students said they couldn't afford to live any other way.
One of those students, a 20-year-old IT student, said as part of her visa she could work 20 hours a week but found it hard to secure a part-time job, despite signing up with Jobsearch.
A 19-year-old hospitality student said she also struggled to find work, which was why she was forced to live with three others in a one-bedroom flat.
They said the maximum number of tenants allowed in their flat was two.
Waiariki director of special services Paramdip Singh said international students could pay about $18,000 in fees and although they saved a bit of money before moving here, most assumed they could pay for their everyday living costs through working to support themselves.
However, jobs were scarce due to the recession and the Psa disease affecting kiwifruit orchards in Te Puke.
He said hundreds of their students relied on the kiwifruit industry for part-time work.
Although many students were from middle to upper-middle class families, they didn't want to ask parents for money.
Richard Evans, of Rotorua Rentals, said it had a few international students who rented properties but Rotorua didn't have a big student market.
"We're not aware of overcrowding ... it doesn't mean to say it doesn't exist."
For more articles from this region, go to Rotorua Daily Post