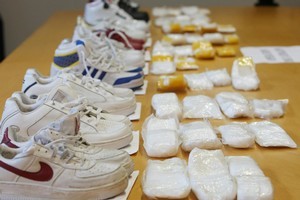 Ten Malaysians caught smuggling methamphetamine in their shoes have been sentenced to between nine years and 11 months and 10 and-a-half years in a New Zealand jail.
The eight men and two women were found with 8.5kg of the illicit drug when they arrived at Auckland airport in April.
They pleaded guilty to charges of importing methamphetamine. Each had between 800g and just under 1kg hidden in their shoes.
The total amount of methamphetamine has a street value of roughly $8.5 million.
The bust involved the largest number of drug couriers caught in a single incident at the New Zealand border.
Yuen Fatt Wong, 61, Teng-Kim Ooi, 52, Tan Ah Nya. 51, Sit Mooi En, 29, Lian Fong Wong, 53, Eng Wan Teoh, 22, Ah Kooi Teoh, 21, Eng Hin Ong, 39, Waihong Leong, 23 and Ewe How Ong, 40 all appeared for sentence at the Auckland High Court today.
They were accompanied by translators. Some had to be seated in the dock and others had to sit at the lawyers' benches.
Justice Graham Lang said all 10 had problems with money back in Malaysia and had borrowed money from loan sharks who charged "outrageous'' interest rates.
But he said it was important to send a clear message to drug dealers and couriers that New Zealand was not a soft touch.
"They have to know that if they are caught in this country, they will spend significant lengths of time in our prisons.''
Lawyers for the accused said their clients were promised amounts of between $9000 and $16,000 for importing the drugs and some were told that they were acutally bringing gold into the country.
They said their clients had to pay for education and health bills of loved ones and some had been threatened physically or had their family threatened.
Justice Lang said although the 10 were couriers, their role was vital to importing drugs.
"At the end of the day, you were willing participants of bringing drugs into this country.''
He said he took into account their early guilty pleas when passing sentence and also those with clean records.
Each prisoner will also have to serve a minimum term in prison of 40 percent of their sentence.
- APNZ