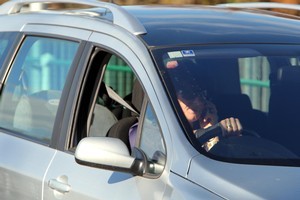 Using a cellphone while driving is inexcusable yet 15,000 people have done so in the two years it has been banned, police say.
Police today launched a 10-day blitz on using cellphones while driving, to coincide with the two-year anniversary of legislation banning the practice.
Superintendent Paula Rose, National Manager Road Policing, said the campaign aimed to remind drivers of the need to remain vigilant and not to slip back into the old habit of talking or texting on cellphones while in their cars.
"We are now two years down the track (and) we don't see any excuses for people still failing to comply with this legislation," she said.
That may be so but latest police figures showed 15,000 offence notices had been issued nationwide over the past two years for using cellphones while driving.
"Overall we are very satisfied that the majority of drivers have changed their behaviour to comply with the law and reduce their risk on the road," Ms Rose said.
"But we have still issued many more infringement notices than we would like."
The law allowed for hands-free mobiles to be used to make or receive a call but texting was banned under all circumstances.
- APNZ