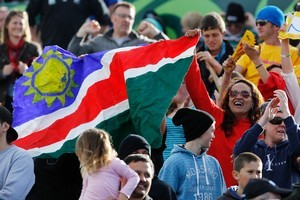 New Zealand promised a stadium of four million and John Roughan found many who took the pledge to heart
At a farmgate deep in the country a big white teddy bear held a silver-fern flag and a home-made sign saying "Go All Blacks". The little shrine is memorable only because it was typical.
To travel around New Zealand in the spring of 2011 was to see a country in high spirits, relishing a challenge together, hosting the world, having fun. People found thousands of ways to say it. Farmers built plywood placards in roadside paddocks, townies draped the flag from their houses, even sombre law firms put it in their window.
Tokoroa dressed its big welcoming timber worker in an All Black jersey, Te Kuiti became "Meadsville" with each main street shop renamed for its favourite son. The barber was the Meadsville Shearing Shed, the pharmacy advertised Meadications ...
Tourist stops proclaimed themselves "campervan friendly" with free parks for the properly equipped.
Cleaning their van at Taupo's lake front park, young Irish folk said they had found the friendly claim genuine. When they had stopped on the road from New Plymouth to get their bearings a Kiwi had pulled up alongside to see if they needed help.
Newcomers touring the country and passing so many the silver fern flags might have and imagined New Zealanders had eyes for only one team. That impression was soon dispelled.
Napier's McLean Park was sold out for Canada's games with France and Japan, Waikato Stadium was full for Samoa's match with Wales. Whangarei had a full house for Tonga against Japan. Perhaps most astonishing, Palmerston North filled its new Arena Manawatu for Georgia and Romania.
On match days, towns buzzed with events and street entertainment. A travelling carnival of rugby memorabilia and fairground attractions arrived. People in smaller centres did not just flock to their allocated games, they dressed for the day in the colours of a team and pretended to take sides.
Women who had rarely attended a rugby match went to for more than rugby and were not disappointed. The pre-match build-up rocked the stadium and tingled the spine with World in Union in the evening air.
From kick-off to final whistle, crowds flourished flags and signs, whooped and cheered at the slightest progress of "their" team and sent Mexican waves rippling around the ground.
The people who made it happen were local business trusts recruited by regional or local bodies, rather that cash-strapped rugby unions.
Poverty Bay Rugby Union chief executive Mark Weatherall reckoned his union was the only one in the country that had to under-write the cost of hosting a team, Namibia.
It had done the job well, generating so much local support for the southern Africa side that the Ngatapa under-11 team had raised money all winter to go to Rotorua for Namibia's first match.
The boys in the team, with rostered parental help, had cooked meals at the club on senior teams' training night for hungry players, many of them single shepherds on high country stations far away. To play rugby they had to travel an hour an hour or more each way from as far as tiny Matawai.
Remote places managed to catch a slice of the fun without a World Cup match or overseas visitors in sight. Tolaga Bay could not entice travellers to go a long way for some genuine heartland rugby.
The town staged an event anyway with Ngati Porou-East Coast playing Poverty Bay. A big screen and loud sound drew a keen country crowd that stayed to see a fast, furious and close game on a sunny day in a beautiful place.
They needed nothing more.