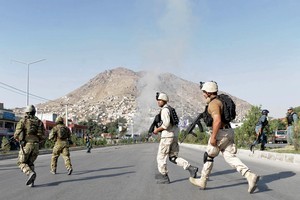 The SAS would not be redeployed to Afghanistan by any Labour-led Government after the November election.
Labour reiterated today it would withdraw the SAS from its current mission in Kabul, in about the same timeframe that National is intending to pull them out - by the end of March 2012.
The difference is that National has not ruled out some future deployment; Labour has.
"We will not be re-deploying SAS service personnel to Afghanistan under a Labour Government," Mr Goff told reporters today in Wellington.
"We've now been in Afghanistan for longer than we were in the First and Second World War combined. That is not a sustainable position."
There are about 35 SAS personnel in Kabul. It is on its fourth deployment since the US-led invasion in 2001.
About 140 Defence Force personnel are in the provincial reconstruction team (PRT) in Bamiyan province.
They passed responsibility for security to local control in July this year and will be phased out by 2014.
Labour has no difference with National on the Bamiyan plan where the PRT was "working at least with a competent administration for a phase-out period".
"The SAS is caught in an unfortunate position between a corrupt regime involved with drug trafficking and warlords and an equally awful Taleban opposition. There is no way we can win in that situation."
Labour's defence spokesman, Iain Lees-Galloway, says a Labour Government would halt and review the cost-cutting project underway to "civilianise" up to 1500 uniformed positions but hints it could continue.
"In the event that civilianisation continues, the processes must change give assurance and dignity to affected personnel."
Under Labour's defence policy it would also explore the establishment of a defence college in Palmerston North.
It would retain Linton Army base which the Government has proposed to merge with Ohakea airbase.