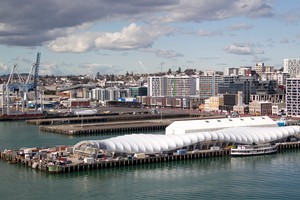 When Auckland contemplates its World Cup legacy on the downtown waterfront, two things stand out. One is the Cloud on Queens Wharf, the other Wynyard Quarter's North Wharf. The Cloud was hastily designed when the city could not find a more inspired design for its central wharf newly available for public use. North Wharf is just the first stage of a waterfront redevelopment that envisages an "iconic" structure on Wynyard Point where a tank farm has stood for too long.
Without an event to force the pace of planning it is all too likely that these prime sites will remain much as they are. Queens Wharf seems fated to have a cruise ship terminal, probably using the century-old Shed 10, but that will not threaten the survival of the Cloud. Rugby World Cup Minister Murray McCully, who had it built when Auckland dithered, says the city can keep it if it wants.
Do we want it? Visitors to the exhibitions it has contained during the cup will have found much to admire.
The big, undulating canopy provides bright, comfortable spaces for activities along its length. The large openings at each end will make the facility even more attractive in hot weather.
From a distance it has certainly become a distinctive feature of the waterfront but perhaps not an attractive one. Left there a while it might grow on us, or it might always look like an oddity. Until somebody comes up with something better for the site, it should remain.
Wynyard Point is more visible than Queens Wharf from the harbour bridge, North Shore and ships entering the Waitemata. It should be the focus of Aucklanders' architectural imagination.
The Tank Farm might not be relocated until 2019, says Waterfront Auckland, but that is closer than it sounds. If somebody was to come up with an exciting concept tomorrow it could take that long to complete the design and satisfy consent procedures.
One proposal for the building's purpose, though not its design, has been made by a group chaired by Aucklander Hamish Keith and including Michael Houlihan, chief executive of Wellington's national museum Te Papa. They suggest the site would be ideal for a Te Papa offshoot, drawing on the same national collection, only a small proportion of which Te Papa has space to display.
The idea might worry existing Auckland museums but it should not. Nothing can displace the War Memorial Museum in the landscape of Auckland, literally or figuratively. Its more traditional character will always have more appeal than Te Papa to many people.
Likewise, the Maritime Museum and Motat have distinctive collections. Te Papa North would not have its own stock; it would mount special exhibits from the Wellington vaults.
For a site such as Wynyard Point, a building's design is more important than its purpose but a successful design has to start with a purpose. To draw something startling, then contrive a use for it, is a recipe for a white elephant. Artful structures without purpose struggle to keep a city's affection.
Wynyard Point is designated as public space on the waterfront plan but the Auckland Council should keep its mind open to the possibility that the best iconic building proposal could come from private enterprise. The Sky Tower has become an undeniably iconic edifice and it was built by a casino.
Something quite different but equally distinctive can be built on the harbour. It needs to have a use that takes advantage of the water and views. A lively modern museum can succeed in many forms. The Keith group's idea is a good start. It can send designers to their drawing boards with a purpose.