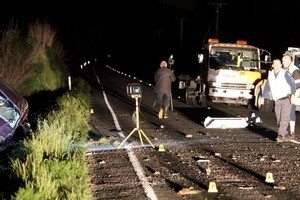 Police are urging motorists to take care as the Labour Weekend road toll edges up and bad weather brings severe gales and heavy rain to parts of the country.
A pedestrian struck and killed by a car in Auckland early this morning has brought the holiday road toll to seven, just one shy of last year, when eight people were killed on the roads during Labour Weekend.
The driver was assisting police with their inquiries after the crash on Great North Rd in Pt Chevalier about 2.30am, Inspector Cornell Kluessien of police northern communications said.
Four people died on the roads yesterday, and two people died after crashes on Saturday.
MetService weather ambassador Bob McDavitt warned of a wet and windy trip home for some motorists, with a fairly active front bringing strong to severe gales and heavy rain across parts of the South Island and the lower North Island today.
"Northwest winds are likely to strengthen across the east and south of the South Island today with severe gale gusts possible, and then across Wellington and Wairarapa tonight.''
The trip home should be far quieter across the north of the North Island, with just some patchy cloud and westerly breezes.
Police urged people to make sure they were well rested before getting behind the wheel today following Rugby World Cup celebrations last night.
National road policing manager Superintendent Paula Rose said police did not want anyone else to die on the roads this weekend.
"The aim for police is to help everyone make it home safely from their Labour Weekend break. To do this, all of us need to take care,'' she said.
Yesterday she said the toll was expected to keep growing.
"The sad reality is there will be more crashes between now and 6am Tuesday morning, when the holiday weekend [toll period] finishes, but the real focus for us is to make sure that we keep those right down to a minimum.''
Ms Rose said a number of crashes were expected on state highways over holiday weekends because people flocked to the country's main roads to travel.
An influx of heavier traffic was expected today and tomorrow as people travelled home.
Four people were killed in three fatal crashes yesterday.
A woman was killed when the car she was driving struck a motorway bridge pillar on State Highway 2 near Tauranga about 10pm.
A woman passenger was injured in the crash.
Two people died in a single car accident on SH2, about 15km south of Hastings shortly after 2am yesterday, and a 30-year-old man was killed in a crash at the intersection of Bosher Rd and State Highway 1, north of Wellsford, about 9am.
There were two deaths after crashes on Saturday.
A man was killed when a car crossed the centre line and two cars collided on SH2 near Napier about 7am, while a motorcyclist died in hospital early yesterday after crashing into a fence in Wanganui about 7.30pm Saturday.
The worst Labour Weekend road toll was in 1978 when 16 people were killed over the holiday weekend.
The holiday road toll period started at 4pm on Friday and runs until 6am Tuesday.
Overall, the road toll is well down on last year, with about 75 fewer deaths to date.
- APNZ