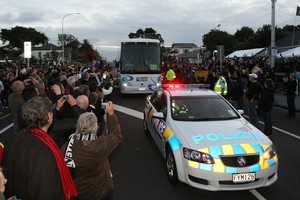 Hundreds of frenzied fans gave the All Blacks a spine-tingling send-off as they left their central Auckland hotel for the most important match of their lives.
A deafening roar greeted captain Richie McCaw and his team as they filed out from the Heritage Hotel, with latecomers sprinting to join the throng surrounding the bus.
Some players listened to music on headphones, but most allowed themselves a smile as they got a first taste of the atmosphere that awaited them at Eden Park.
One of the biggest cheers was for Sonny Bill Williams, who allowed himself a smile in recognition.
The most popular player by far was Piri Weepu, who was greeted by chants of, "Piri, Piri."
Security barriers and staff held back the hundreds of cheering fans as the team bus slowly departed, flanked by four police motorcycles, each adorned with an All Black flag.
Supporters had filled the street for an hour before the team left at about 7.15pm, and a rustle of excitement greeted every security guard who came through the hotel door.
Fans also packed the edges of a neighbouring carpark building, with one group of men amusing the crowd below with calls such as: "Stephen Donald, stay at home. Everyone else, on the bus."
Others stood on the roofs of cars parked on the side of theroad.
Primary school teacher Robyn Wills, "32 and still stalking All Blacks", and her colleagues Rachel Williams and Rachelle Barker were the first group to wait by the barriers at 5.30pm.
Ms Wills, with a New Zealand flag around her neck, said Piri Weepu and Richie McCaw were her favourites.
"I was at Richie's first game and then at his 100th game, so I have a soft spot for him."
Alix Berry-Smith and friend Carol Handin said the Rugby World Cup had given the country a real lift.
"There's been such a sense of possibility throughout the country. This time of year you're usually feeling really down about the weather, and this has been really uplifting. It's just so neat to be amongst it."
Other fans shouted messages of support to their favourite players at the darkened hotel windows above them, and punters at the nearby Muddy Farmer pub belted out a chorus of Tatou Tatou E.
The All Blacks, having their final meal before the game, would surely have heard the din below.
Speaking to reporters during the week, the team gave a glimpse of how they would kill time waiting for the final's 9pm kick-off.
Halfback Andy Ellis said he would play cards, while injured first five Dan Carter would continue his prematch routine of having a coffee with his mates in the team.
Coach Graham Henry joked he had a "granny nap" before the semifinal, although nerves of steel would be required to do the same leading in to the match on which his legacy will be judged.
The last words before the team ran on to Eden Park came from their captain. Asked before the game what those words would be, McCaw said he would tell the players the final was an "opportunity".
"There are two teams on the start-line and it's about making the most of that and everyone, regardless of what happens, knowing they could not have done anything more."
McCaw said last week that Sir Brian Lochore, who coached the 1987 All Blacks to their World Cup victory over France, was someone who had shaped his leadership style.
Sir Brian's own words to his own players before their final, overheard by reporter Ian Borthwick, could well have been said last night.
"You are a good team. But you are not yet a great team. If you win today, you will be able to say you are a great team, and in 20 years' time, you will still be able to live on it. Great teams never die!"