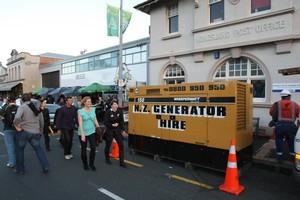 Frustrated businesses on a busy strip of bars and eateries near Eden Park were left without power for more than five hours yesterday ahead of the Rugby World Cup final.
At least five outfits in New North Rd, Kingsland, lost power just after 2.30pm because of a fault in an underground transformer.
The power cut out just as the businesses were preparing for one of the busiest nights of the year as tens of thousands of people started to descend on the area to watch the Rugby World Cup final.
But their plans were disrupted, and customers at El Camino Mexican restaurant had to eat their dinners by candlelight.
Stephanie Connor, owner of El Camino and Toro Bar, said the power cut was "soul-destroying".
A Vector spokeswoman said the it affected 20 Vector customers from 464 to 498 New North Rd, which are on one side of the street.
Three generators were escorted by police to the area after it was decided that fixing the faulty transformer would take too long.
The affected section of New North Rd was reduced to one lane because the generators took up so much room.
By 7.35pm, all the firms had the power back on, although Vector had to bring in a fourth generator to power The Kingslander's chillers. It was operational by 8pm.
Sarah Emery, manager of the tavern, one of Auckland's top rugby-viewing venues, said the loss of power would mean loss of income "big time".
"This is the ultimate sports venue, and we're so close to Eden Park, and if you haven't got a ticket this is the place to watch the game. And now it's all going down the toilet."
Ian Lines, owner of the Taiko Japanese restaurant, said he was forced to turn away bookings after the power failure plunged his eatery into darkness.
"We've been planning this night for months," said Mr Lines. "And now we've lost a lot of money.
"People have been pretty uncomfortable, but they're singing, cheering, making the most of it."
- additional reporting: APNZ