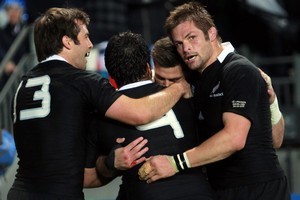 There is, indeed, reason aplenty to rejoice, and also to revel in the manner in which victory was achieved.Today, the country, as one, is celebrating a new group of national heroes. The All Black team that defeated France in last night's Rugby World Cup final at Eden Park will be feted for a long time to come. Rightly so. If one thing has been learned since the All Blacks raised the Webb Ellis Cup at the first World Cup, it is that victory in this tournament is a colossal feat. The win in 1987 seemed almost to be taken for granted, but the 24 years since have been a story of wrecked dreams and wretched misadventure.
There is, indeed, reason aplenty to rejoice, and also to revel in the manner in which victory was achieved by a team applauded worldwide for the power and panache of its play.
No one could surely begrudge the All Blacks this accolade. They upheld their ranking as the world's top team over the past four years in emphatic style, emerging from the tournament undefeated.
Likewise, no one could surely resent the fact that it fell to Richie McCaw to lift the trophy. In 2009 and 2010, he had confirmed his status as one of this country's greatest players by winning successive International Rugby Board player of the year awards.
This year, however, was as much about character as ability thanks to a nagging foot injury. Somehow he has managed to play up to his own, highest standards.
McCaw has also had to captain a team that suffered more than its fair share of mishap during the cup campaign. The way it overcame this will be the stuff of tales that are passed down through the generations. The early loss of Dan Carter, probably the world's best player and the finest first five-eighths ever produced by this country, would have been an unsurmountable setback for a lesser team. The tournament-ending injury to his back-up, Colin Slade, soon thereafter seemed almost to smack of a jinx. Yet out of the Manawatu stepped Aaron Cruden to quell a nation's anxiety as he stamped his mark on this most pivotal of positions.
Such a devastating sequence of injury could never be foreseen or prepared for adequately. However, it was a measure of the All Black coaching triumvirate, led by Graham Henry, that most other aspects of this campaign proceeded seamlessly. The trio's reappointment after the huge disappointment of a 2007 quarter-final loss to France was the subject of heated debate. That can now end. The New Zealand Rugby Union has been proved right in its belief that lessons learned from the Cardiff defeat and other aspects of the 2007 campaign would produce a winning formula this year.
Not the least of these was the coaches' appreciation that the knock-out format of the World Cup necessitates a step up in intensity. A continuation of the approach that had enabled the team to attain a top world ranking would not suffice. Yet although this could not be business as usual, the team still managed to conduct themselves with magnanimity and good humour.
Names such as Piri Weepu, Cory Jane, Brad Thorn and Jerome Kaino will now become part of New Zealand rugby folklore. They will sit on a pinnacle touched by only a select group of their countrymen. One gauge of their achievement is the hundreds of All Blacks who were thwarted in their attempts to put New Zealand's name on the Webb Ellis Cup for a second time. They include the likes of Jonah Lomu, Christian Cullen and Tana Umaga, all players of the highest quality.
Denied these men was the ultimate crowning of their wonderful careers.
This year, however, the stars have aligned for a group of their successors in the black jersey.
We can now place their triumph in context and understand its magnitude. Quite simply, it means this World Cup has been an outstanding success for this country in every way.