Nomad Matt Johnson returned his campervan this week after a six-week tour of the country. His trip is over, but the World Cup dream is not.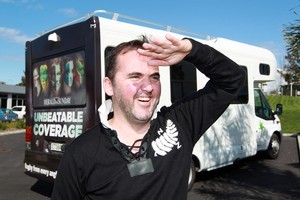 It's that word we have hated to hear: almost.
We were almost there.
We've considered it a taunt. Every four years, it had been at the school gate along with 'Favourites', 'food poisoning' and other 'F' words (like 'France'), tearing up New Zealand's rugby homework and bullying us into silence.
Now school was nearly out. But in the words of our most celebrated philosopher - Olly Olsen - could we keep cool till after it?
The whole country was standing beside the booty. Booty in the Treasure Island sense of the word. No wonder it made us nervous. Tonight would be like playing Monopoly against a French mathematical genius and praying he didn't find a way to roll a double. Get out of jail free.
We were in Auckland, leaning into the silence. Listening for the first notes of one final rugby symphony.
Outside Epsom Girls' and Takapuna Grammar, parents dragged over-achieving children down to the pavement. Hung signs around blazers that read: Will swap for 2 x Finals tickets, Cat B. In stores, officially licensed products had been reduced by 50 per cent in every colour except black.
Australia had been gracious losers; that brashness and confidence we secretly envied evaporating in defeat. Here already was a lesson for RWC 2015: it was better to beat one than bash one. After all, they were nice neighbours. Without them, we'd have no one to kick a ball around with in our own backyard. Be left playing with ourselves. Something we might struggle to do successfully given the nation's remarkably high-rate of groin strain.
At the Kea Depot in Albany, Rachel - who was French - did the vehicle inspection. Found the large pieces of the campervan, which had broken off, that I had cleverly hid inside the campervan. Under a cushion. Wrote down one single word on her clipboard. I asked if she meant "retard" in a French way, which means late.
She said: non.
With great power-steering had come great responsibility. But that was all over now. The tour was done. Fini. And I was having trouble returning to civilian life. Like Rambo, only plumper.
Staying with friends, I kept turning on all the lights at 3am, pretending it was high-beam. Beeping their cat. Complaining the kitchen had no indicators. Then there was the cash. My first adult paycheck, and I had frittered it all away. On fritters, mainly. Potato ones.
Yet even left with nothing, what did it mean to come home? To see NZ again from the wheel of a big car? Drown in greenness and open spaces? Dance with your mum? For six weeks, the country had gone crazy. Needed to be relabelled: Caution, may contain traces of rugby nuts. Now a tight five, maybe one day a tight five million.
I had one thing left to say. Something that hadn't been said yet in the tsunami of column centimetres written about this World Cup.
If only I hadn't lost my notes. Left them on a bench on Schoolhouse Rd in Kaikoura. Folded them away in awe on the sands of Waikouaiti beach. Dropped them when offered a free hangi in the carpark of Tokoroa RFC. Dipped them in yum char in Newmarket.
Thankfully, there were Post-it notes. And the entire country already felt what was written on them: While prizes glitter, life here still glowed. We posted that one back to ourselves every day. Fastpost.
Straight to the heart.
Kiwi Matt Johnson returned from France for the World Cup. He is backing black tonight.