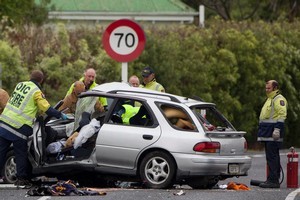 A man was killed in a head-on collision in Napier in a grim start to the long weekend.
The man in his 20s died after the car in which he was the sole occupant crossed the centre line and hit a white Mitsubishi station wagon early yesterday in a suburban street.
The driver and two passengers in the wagon were taken to Hawke's Bay Hospital where a male was in critical condition and a female in a serious condition. A third person was discharged.
"Two of the people in the Mitsubishi were trapped and had to be extricated," said senior fire officer Mike Peachey.
Residents in nearby Petane Rd said the speed limit had been lowered recently.
"The speed limit was changed from 100km/h to 70km/h and since then it has been much better," resident Karen Morris said.
"People were always a bit hesitant to pull out from the street but there was some community consultation and they dropped the speed limit."
However, Peachey said the stretch of State Highway 2 where the crash happened was no more dangerous than others around the country. "We have had one or two crashes there but no more than in other areas."
Racheal Wharahinga had gone to buy a loaf of bread when she saw smashed cars blocking the road and in the ditch. "It was horrific. Then I heard there was someone killed - it is just horrible. It's not a nice thought."
Wharahinga said it was the second bad crash in a week.
This death brings the road toll to 222 compared with almost 300 deaths for the same period last year.
In another incident, a 29-year-old Auckland woman driver was in hospital after her car left the road on State Highway 27 yesterday.
Her passengers were fortunate to not suffer more serious injuries.
Constable Stuart Lye of the Morrinsville police said the white Mazda Capella went through the fence of a property about 200m north of Cussen Rd around 4pm.
Lye said the four-door saloon carrying six people rolled a couple of times and the driver was the only person to be injured.
She was airlifted to Waikato Hospital and was being assessed for multiple injuries by medical staff.
Lye said the crash was due to excess speed and the driver would likely be charged with careless driving.
He thought the people in the car were aged between 16 and 30.
The owner of the property, who did not want to be named, said she had seen the car in the paddock, although she did not see it crash.
"A white car has come round the bend and gone through our fence," she said.
She said she went to have a look at the fence because it was a main road, but she said there were no stock in the paddock at the time.
- additional reporting by Hayley Hannan of APNZ