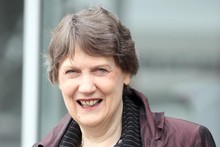 There's no place like home - especially when home is hosting an All Blacks' Rugby World Cup final.
Former Prime Minister Helen Clark stepped off a plane just in time to catch the game and flies out again on Tuesday.
Clark, who is now based in New York, looked fresh and relaxed despite travelling from Mongolia, where she was on official duties as head of the United Nations development programme. She has tickets to the match, which is just a short walk from her Mt Eden house.
"I'm looking forward to the game. I hope to catch up with friends and family while I'm here."
Sonja Shine and her fiance Glenn Critchley, who now live in Singapore, took two days off work and jumped on a 10-hour flight, just so they could experience the atmosphere in Auckland today. Shine's brother Mark, 23, flew in from Melbourne to join them - bearing a brand new New Zealand map tattoo to further show the pride he felt for his home country.
Schoolteacher Sonja, 30, said they booked the flights months ago in the hope that the All Blacks would get through.
"We were really nervous watching the quarter final and the semi, but were so glad we did it now." The couple plan to watch the game from a bar in Auckland's Viaduct.
Mum Kerry Shine said she thought her children were crazy to come such a long way.
"They don't even have tickets. They just want to be here to soak up the atmosphere," she said.
But for Sonja and Greg, it was the only thing to do: "There's no place we'd want to be except here."
Former Japanese Prime Minister and Japanese Rugby Union president Yoshiro Mori also arrived yesterday. Mori will no doubt be taking notes in preparation for the 2019 Rugby World Cup, to be held in Japan.
By Celeste Gorrell Anstiss @Cagorrell

Email

Celeste