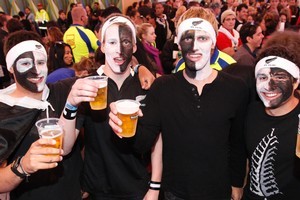 Entertainment off the rugby field has proved almost as successful as on the park during the Rugby World Cup.
More than 888,000 people have been to Auckland fanzones, run by thousands of volunteers, workers and entertainers.
Until Tuesday, 828,889 people had visited the Queens Wharf and Captain Cook Wharf fanzones. A further 59,000 have been to the Henderson, Albany and Mangere fanzones. By yesterday, more than 88,000 people had walked the Fan Trail.
About 110 paid staff have been involved in those fanzones and 2000 volunteers have been involved in running the fanzones and the Fan Trail.
Numbers of paid staff for Queens Wharf and the waterfront fanzones were not available.
After tonight, more than 60 paid New Zealand bands and singers will have performed at Queens Wharf. Even more having played at other Auckland fanzones.
Wellington entertainers The Improvisors have been working at Queens Wharf for seven weeks and will entertain their last fans today.
Four experienced actors from corporate entertainment company The Improvisors, Greg Ellis, Thom McGrath, Kenny King and Cohen Holloway were given a brief to help entertain and inform people on the wharf. Entertainers have been earning up to $350 for each four-hour shift.
But the hours were tough, the guys have worked six days a week during the tournament, often from 9.30am to 7pm.
Real New Zealand Festival director Briony Ellis said the group was employed to help with crowd control and give people something to do as they queued.
"It's been great to have them. It's about bringing the wharf to life."
The chairwoman of the Auckland co-ordination group Rugby World Cup 2011, Rachael Dacy, said the fanzones and the Fan Trail had been an outstanding success.
"Fanzones have gone extremely well and have been very well received by members of the public as well as visitors to Auckland."
Dacy said even people who weren't going to games had walked the Fan Trail.
She said people had raved about the Cloud, Shed 10 and the Giant Rugby Ball on Queens Wharf. Dacy said the entertainment costs would make up a significant percentage of the event's overall running costs.
Ellis agreed the fanzones around the country had been a success. "It's absolutely been going amazingly well."
She said Queens Wharf was almost always full.
Different events were held every day, even when there wasn't a match on.
The events on at the fanzones were organised by Real New Zealand, which was funded by many different sources including a Government allocated $9.5 million lotteries fund and the Ministry of Culture and Heritage's Cultural Diplomacy International Programme, which usually funded overseas projects.
Queens Wharf will be closed tomorrow and next week, most of the hired equipment used for the fanzones and Fan Trail will be dismantled and returned.