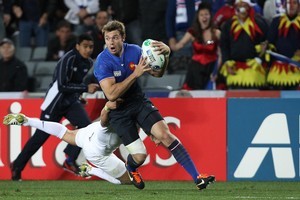 Michel Palmie loves the beast that All Black Brad Thorn is on the field because it reminds the former French lock, who used to terrorise opponents, of someone he admires - himself.
The 60-year-old former international was among a host of former and current players at waterfront restaurant Kermadec yesterday eating, singing and drinking as they built for the weekend's Rugby World Cup final.
Kermadec is the French team's base and was booked out by the country's rugby union months ago for the month of the Rugby World Cup.
A man-mountain who took the field standing a shade under two metres and weighing 117kgs during the mid 1970s, Palmie still cuts an imposing figure.
During his era he had a reputation backed by deeds for dirty play. He partially blinded a man in 1978, but while players didn't like him on the field, they liked him off it, he joked.
"I like Mr Thorn - he's like me when I play. I am the Mr Thorn of the French team.
"I am the killer and he is the killer, we have the same jobs."
Palmie arrived in the country for the quarter finals, because he doesn't like the "little games." And, since he's been here the Tricolors haven't dropped a game.
Do those results mean he's a good luck charm?
"Ha, it's the balls," he roared gesturing to his groin.
Still he has a feeling that the best French player on the night might be South African Craig Joubert.
"Maybe, the referee give us penalties, maybe he will be the best player of the final. Lets hope so."
His mate Gerald Martinez, a former captain and number nine, who played internationally from 1975 to 1982, said his team must score first to have any success.
"If the French score first, it will be difficult for New Zealand - they will remember Cardiff. If New Zealand scores [first] it will be very difficult to win."
Helping move interviews along with translation yesterday was the cheerful vice-president of the union, Bernard Godet.
He'd ask: "Did that answer your question? yes?"
When he saw confusion because something had been lost in translation he laughed: "It doesn't matter."
The French had loved their time in the country, people had been warm and welcoming, but he wondered if the public were a little overconfident about a straight All Black win on Sunday.
"We're not troubled by it but astonished. Are you becoming English, the New Zealand public? We love the English," he joked.