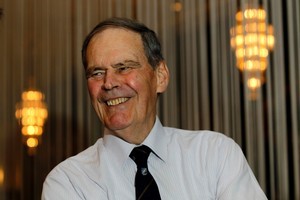 You probably wouldn't recognise the old gent at the SkyCity Grand Hotel in Auckland.
He's up from Whakatane for the World Cup and is stoked at how well it's all going.
The 80-year-old is in good condition and says the tournament is in even better nick.
Dick Littlejohn is responsible, in part, for all the excited fans who will spill into Eden Park tomorrow for the big All Blacks versus France finale.
The former All Blacks manager teamed up with an Australian, the late Sir Nicholas Shehadie, in the 1980s and hit the road to convince the rest of the world to take part in a new competition.
England in particular wasn't too keen on the concept of a Rugby World Cup but eventually fell into line - and look at what's happened since.
The cup has grown bigger and bigger and will keep growing, Mr Littlejohn thinks.
Of course, he hopes the All Blacks win tomorrow night, but none of those AB losses over the years really matter, he says.
"What's important to me is that the tournament is successful, which this one has been. This tournament has been everything that I've hoped for. The public have joined in, everyone's talking about the World Cup.
"That gentleman over there [he points out an Englishman], he said it's the friendliest he's been to where the local people make him welcome and talk to him and say, 'Can I help you?"
This one has been different from the others in another way too, says Mr Littlejohn, who has been to them all.
"Really, the standard is getting better and better. I think one of the things that has made this one memorable is that ... even though they're down on points, they all fight to the end. The Namibians and teams like that, they've tried and tried, they might be 30 or 40 points down but they're still trying."
In that first World Cup in 1987, countries like Zimbabwe, Romania and Spain were included, and even the United States, which was unheard of as a rugby nation back then.
Mrr Littlejohn admits feeling proud about his role in getting the tournament off the ground, but then he, like so many Kiwis, is a rugby nut.
In Whakatane, there are only 15,000 people but five rugby clubs. He has played the game there but has also been heavily involved in running it at regional and national levels.
He says it was the first sport to become dominant here, and it's probably still the only sport New Zealand will continuously lead the world in.
But it's also important to us because unlike most other nations - Wales aside - it is played by the working classes and embraced by Pakeha and Maori alike, creating a unity between the cultures.
Mr Littlejohn will be at Eden Park tomorrow hoping for a good contest.