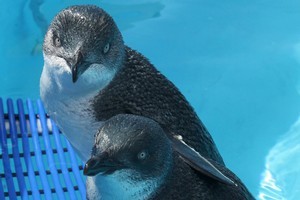 Authorities assisting with wildlife recovery are being inundated with oiled little blue penguins.
While around 120 penguins have been rescued so far, the number of breeding pairs in the region are around 200 to 300 and the spill couldn't have come at a worse time.
It is the middle of breeding season for the nocturnal birds who get covered in the thick tar-like oil while crossing rocks to return to their burrows.
Rebecca Bird, one of 140 field staff working as part of Maritime New Zealand's oiled wildlife recovery efforts, says it is heartbreaking to see that by rescuing an oiled bird it often means their offspring won't survive.
"We checked on the pair of little blue penguins in the 'window nest' a couple of nights ago, and the mate was oiled so we had to take him away to the recovery centre to be looked after. Then the next night we found the other penguin was oiled and had to take her away.
We hope that the birds we recover will be rehabilitated successfully, but it's heartbreaking to know that saving them means their clutch won't be reared."
In an effort to save the clutch, the team placed the eggs with another pair of penguins, but sadly the adoptive pair rejected the eggs.
Local conservation volunteer Dave Richards said some of the penguins who had lost their mate were also abandoning their nests: "They stay on their nests until they figure out their mate isn't coming back and eventually they'll go and feed."
"I never thought - it's a relatively small amount of oil - and it's already had such a devastating impact on the penguins." says Dave. "It's just heartbreaking."
SALVAGE OPERATIONS SLOW BUT STEADY
Salvors have now pumped 171 tonnes from the port-side 5 tank, leaving 772 tonnes left in the tank and about 1170 tonnes in total onboard the stricken cargo vessel Rena.
Pumping operations had suffered minor setbacks throughout the day, including a 15-minute power outage and a fault which saw a pump unit having to be replaced.
Pumping would continue while the weather remained calm but salvage unit manager Bruce Anderson could not say how much was likely to have been off-loaded by the morning.
The salvage operations will shift their focus to getting the fuel removed more quickly and will be trying a number of options to speed up the process over the next 24 to 48 hours.
BEACH REOPENED
This afternoon approximately 3km of Mt Maunganui beach was reopened for public use, but was still not open for swimming.
National On Scene Commander Alex van Wijngaarden said "people should still stay out of the water, and avoid collecting shellfish or fishing in areas which have been contaminated by oil."
He reminded the public to call 0800 OIL SPILL if they came across any oiled areas.
COASTAL CLEAN-UP
Five volunteer clean-up events will be taking place tomorrow which have been coordinated by local iwi, the volunteer coordination group and the Defence Force.
People who wish to volunteer are required to register at http://www.boprc.govt.nz/oilspillvolunteers/