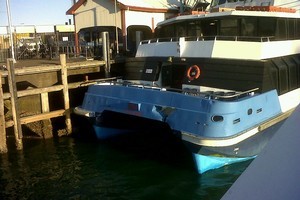 Fullers is investigating the cause of a crash between two of its ferries in Auckland last night.
The Kea, which travels between Auckland and Devonport, clipped the Harbour Cat which was berthed at the ferry terminal at 5.30pm last night.
St John treated one person for minor injuries.
Fullers says the Kea had broken down earlier in the day, but had been cleared to go back into service.
It's not known if that had anything to do with the collision.
Newstalk ZB journalist Sophie Lowery, who was on her way to Devonport, says the boat got no more than one hundred metres from the terminal.
She says there was an almighty bang and the ferry stopped dead. It crashed into Queens Wharf and the Kea punched a big hole in both boats.
Both ferries are now out of action.