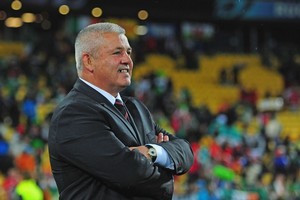 Families of players in tonight's Rugby World Cup bronze final have got over the initial disappointment of being knocked out of the tournament and are looking forward to seeing their men play another match.
Wales and Australia are set to go head-to-head at Eden Park for the Rugby World Cup's third-place playoff.
Trudi Gatland, wife of Wales coach Warren Gatland, said she was "devastated" by the controversial red-card which spelt the death of the Dragons' World Cup campaign.
But Mrs Gatland, along with many other Wales supporters, has adopted an onwards and upwards attitude to the match against Australia tonight.
"It was quite hard to get enthusiastic about [tonight's] game after last weekend's debacle. But anyway we'll be up there supporting them and really hoping they can get a bronze medal out of it which would be great," she said.
"The boys have realised that they've come out here to play some good rugby so they really need to finish on a high for themselves.
"So for all the supporters who are here and the parents and families, for everybody really - if they can play well against Australia and win the game then they can feel like they've proven some points about how good they really are. That way it should all finish nicely."
Wales captain Sam Warburton's parents are also going to the match even though their son has been suspended for three weeks after being red-carded at the semifinal match against France for a spear tackle.
Mrs Gatland, who lives with her family in Hamilton, picked up Warburton's parents from the airport last week after they flew out from Wales to see their son play.
She became "fast friends" with the Warburtons and will be sitting with them at tonight's match.
"They're a bit disappointed. They've come a long way to see him play only 18 minutes of rugby.
"But that's just the way it goes, I guess.
"They'll be there supporting the team and Sam's obviously still the captain. But it will obviously feel quite different for them."
Meanwhile, Quade Cooper's grandmother is also excited to see her team of choice play again tonight - even though she was disappointed they didn't beat the All Blacks.
Millie Cooper, 76, of Kaikohe, is a staunch supporter of her grandson's Australia team despite being a New Zealander.
Ever since Cooper signed with the Wallabies, she's been a dedicated fan and has watched all of his games.
Mrs Cooper said she had hoped to see her grandson play in the Rugby World Cup final, so it was disappointing to see Australia lose.
"Oh well, may the best team win. That's what I've said all along.
"And if my grandson's team made it to the final then good - but I've always said may the best team win."
She said the All Blacks fans' behaviour towards Cooper, dubbed Public Enemy No 1, was unfair.
"I didn't like that. Leave the boy alone, he's not the only player in the Wallabies.
"They were booing him and every time he kicked they were booing him. I reckon it's stink. The whole of New Zealand was more or less bad-mouthing my grandson."
Mrs Cooper hopes New Zealanders will be a little bit nicer towards the Wallabies tonight, given that they're not playing the All Blacks.
Mrs Cooper is excited that she will get to see her mokopuna play again tonight.
She is flying down today to meet another of her grandsons, Quade's cousin Lee Cooper, to go and watch Quade play his last Rugby World Cup match at Eden Park.
"I'll be wearing my yellow jersey. I've got a wig and I've got a scarf that the family brought over last weekend."
The only part of tonight that Mrs Cooper is not looking forward to is the 5km Fan Trail walk to the stadium.
"You have to walk miles and miles and miles to get to the venue, then walk miles and miles and miles to get to a taxi stand," Mrs Cooper said.