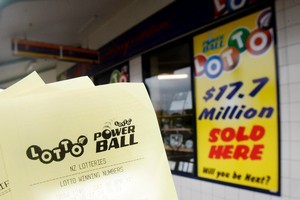 A Hamilton man was "stunned" to discover a million dollar lotto ticket in his pocket, five weeks after buying it.
"When the guy behind the Lotto counter told me I was a millionaire, I was like a stunned mullet - I didn't know where I was, or what was happening."
The winner, who wished to remain anonymous, said he has "been in disbelief for the last few days - winning Lotto doesn't happen to me, it happens to someone else, or so I thought."
He said if his wife had not prompted him to go to the Lotto store, he might not have checked the ticket at all.
"My wife's ticket had won a free line of Strike but I had no idea I had won $1 million when I gave the ticket over to be checked,'" he said.
"On the way back from the bank manager, I asked my wife if she wanted to buy anything, but the two of us couldn't think of anything we wanted right at the moment."

"That night we decided to splash out and enjoyed a celebratory meal ... at Burger King," he said.
He now plans to retire and is looking forward to not having to worry about where the next dollar comes from.
- HERALD ONLINE