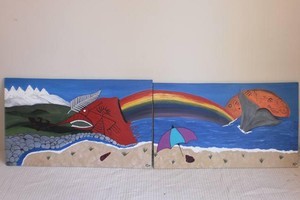 Artwork painted in prison by New Zealand's first serial killer was auctioned off on Trade Me - but only sold for $1.
The painting appeared online this month under the heading "Painted by NZ's first serial killer Hayden Poulter".
But the auction site was unaware of the sale and probably would have removed it because the "glorification" of the killer was in "bad taste" a spokesman said.
Poulter is serving a life sentence for stabbing to death two sex workers and a massage parlour owner in central Auckland in 1997.
The painting was of a taniwha that turned into a whale under a rainbow.
"He painted it specifically to express his life. I am happy to explain the meaning to the buyer," the trader wrote, also urging readers to check Poulter's notoriety by "Googling him".
When the eventual buyer asked whether it would be signed by Poulter or not, the trader answered it would be signed "Leon" after his grandfather - "what he wants to change his name to when he is released ...
if ever".
The Department of Corrections last night confirmed Poulter was the artist after Herald inquiries.
"We have interviewed the prisoner and he has confirmed that it is a piece of his art that he sold more than two years ago," said a spokesman.
Corrections runs art and carving classes in some prisons as part of the rehabilitation programme. Prisoners can donate, gift and in some cases sell their art.
Trade Me spokesman Paul Ford called it an "unusual" case.
"It flew under the radar and we didn't get any complaints about it, despite it being viewed 150 or so times.
"If it had come on to our radar before it closed, we'd most likely have removed it or at least had the serial killer reference removed as there is an element of glorification there which does not feel right."