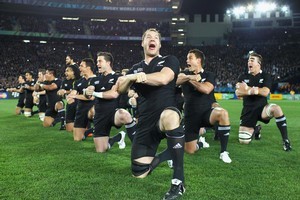 Which haka the All Blacks will perform at this weekend's Rugby World Cup final match is a closely guarded secret.
At a team press conference yesterday, players were coy about whether they would perform the traditional Ka Mate or go with the newer haka, Kapa o Pango, on Sunday.
"Can't tell you that. It's top secret," Ali Williams said. "We'll decide on the bus - that's when we normally decide, on the bus to the game.
"Richie [McCaw] will send a text to the guys and [we'll hear a] 'beep, beep' and it'll tell us what haka we're doing."
In response to a few giggles from journalists, Williams said: "I'm deadly serious."
Both haka have been shown off three times during the Rugby World Cup.
The All Blacks performed the traditional Ka Mate haka for the tournament's opening match against Tonga and again against Japan and then Canada in their pool matches.
Kapa o Pango was the choice in their pool match against France, their quarter-final game against Argentina and again on Sunday, in the semifinal with the Wallabies.
Williams, who usually stands in the front row during the haka, is known for his passionate performances.
Referring to the throat-slitting action at the end of Kapa o Pango, he said: "The little action at the end is the Thunderbolt ... It's like a super-hero from Spider-man."
Williams admitted he had not been a fan of the haka earlier in his career.
But that changed when a Maori leader visited the team and explained the significance of it.
"I know what it means. I know what it does to me - it gets me excited," Williams said. "I didn't use to buy into it but I love it now. I don't want to let it down. I want to pay it the respect it deserves."