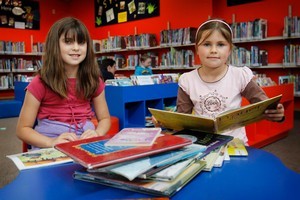 Hamilton City Council could charge readers $2 to borrow an adult fiction book and reduce its libraries' operating hours - including closing on Mondays and Tuesdays - under cash-cutting proposals.
The changes to library services, as well as moves to increase fees at the city's cemeteries and crematoriums, are part of the council's attempt to address its financial woes by saving $14.5 million over three years.
The council has already slashed services provided by parks and gardens, community development, roading and facilities divisions.
Savings of $630,000 a year and additional revenue of $508,000 by 2014-15 could be found by increasing the fine for an overdue book by 50c a day or $2.50 a day for reserved books.
Halving the amount of money spent on new books from $1 million to $500,000 could also help.
Operating hours could be reduced at the six libraries by 43 hours a week to save $250,000 a year.
This would involve streamlining opening hours between 9 and 5.30pm and closing the community libraries, except Chartwell, at the weekend.
However, $575,000 could be saved if the council closed libraries on Mondays and Tuesdays. Between 4.9 and 9.2 full-time equivalent positions would be made redundant.
The community has had mixed reactions to the proposed changes.
Hamilton student and mother Nicola Picknell said she and her 13-year-old daughter read 10 to 12 novels a week so would notice the difference compared with the free service.
As well, closing the library mid-week would be an inconvenience to students who used it on their breaks, she said.
"People on benefits, pensioners - it's all something they can enjoy and it doesn't cost a fortune. If you start charging, they are not going to be able to do it."
But Gail Hendrick, who takes her daughters to Chartwell Library once or twice a week, said closing the libraries on Mondays and Tuesdays would be the biggest disadvantage to her family as there were no proposed changes to children's services.
Retiree Hugh Blake opposed the changes to the library - "one of the two great things in Hamilton" (the other was Hamilton Gardens) - but Hamilton man Murray Hodge supported a user-pay system.
Other changes being considered include fee increases at the city's cemetery - $55 more for cremations and $168.25 more for burials.
As well, the Pacific Islands community could lose access to the $80,000 Maori and Pacific Project Fund, which has funded events such as the Waitangi Day Festival.
The council is considering spending an additional $60,000 on its webcam initiative to enable meetings to be streamed online.
Belt-tightening
Proposed hikes
* Hiring adult fiction$2 a book
* Late library book50c a day
* Late reserved book$2.50 a day
* Cremationsup $55
* Burialsup $168.25
Proposed cuts
* Cut the $80,000 Maori and Pacific Project Fund.
* Close libraries by between 43.5 hours and 63.5 hours a week to save between $250,000 and $575,000.
* Halve the number of new books to save $500,000.