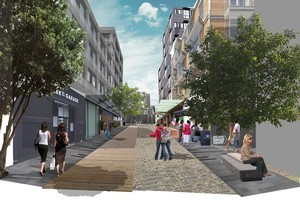 Barely any Aucklanders have contributed their views on the 30-year city blueprint with just a week left to go before submissions close.
Auckland Council chief planning officer Dr Roger Blakeley told Orakei ward councillor Cameron Brewer in correspondence that the council had received 143 submissions to the draft Auckland Plan by yesterday.
That was two-thirds of the number of submissions received for the discussion document Auckland Unleashed at the same stage.
It eventually received 8000. However, half came on postcards from young people.
"The normal pattern is that submissions initially come in slowly and tend to increase exponentially as we approach the deadline," Dr Blakeley said. "However, because we are still dealing with small numbers it is difficult to extrapolate out to what the final number may be."
Mr Brewer said the forced consultation during the Rugby World Cup meant the public had been let down by the council.
"The fact we've only received 143 submissions so far on this major 30-year-plan tells me we've let down the public badly by asking for their formal feedback during [the tournament].
"It's a great shame that this formal consultation period has been buried. Officials knew it would be difficult to engage the public at this time, but pushed for it regardless.
"Some seemed determined to push this plan through while the public's completely got it's guard down."
The plan sets out how Auckland could deal with between 700,000 and 1 million new residents over the next three decades. Urban intensification where developers built up instead of sprawling outwards is on the table as is what the future of the city's transport system could look like.
Infrastructure projects such as the city rail link, rail to the airport and an additional harbour crossing are all big ticket items.
The plan would have generational impacts and he urged the public, business and community groups to get their submissions in.
That could be done in a brief written statement asking to give a fuller verbal submission to councillors in November.
"This will dictate the look and feel of the region for years, as well people's lifestyle and back pocket," Mr Brewer said.
Submissions close a week from today - two days after the cup final.