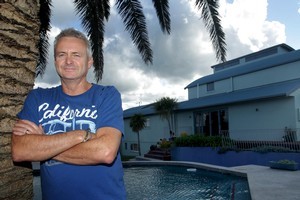 Dean Houghton admits the timing of the oil slick from the stricken Rena couldn't be worse as he tries to sell his immense Papamoa Beach property.
Mr Houghton's home, which his real estate agent has advertised as a "lifestyle resort", is a frisbee's throw from the beach where crews of volunteers were last week cleaning up oil spilled from the cargo ship Rena after it crashed into the Astrolabe Reef on October 5.
Asked what effect it would have on the sale of his property, the commercial real estate landlord and tyre importer/exporter, who had a container on board the ship, seemed more concerned about the environment and local businesses that depend on trade during the summer months.
"I'm sure the summer is stuffed. I think it could be about six months before things come right," he said.
"The timing is not great but in six months it will all be fine but the unfortunate thing is we will all miss out and it's places like Papamoa and the Mount that rely on the summer trade."
Mr Houghton has owned the eight-bedroom, four-bathroom home for 17 years and lives there with his three children.
The house has been on the market for nearly two years. Mr Houghton was going to hold an auction but he gave up on the idea because of a lack of interest.
It also has a self-contained flat, a billiards room, a wine cellar and a heated swimming pool with a large barbecue area.
There is a cottage to the rear of the 1613sq m property that is often booked out in summer as holiday accommodation.
Mr Houghton has had several offers for it including one of a pub, combinations of property and cash and apartments in the city, but he wants cash.
During the property boom in the early 2000s, the property could have easily fetched more than $2 million, he said.
Now he expects a price in excess of $1 million.
As for his plans?
"I wouldn't mind doing a bit of travelling, get out and see the world."
Max Martin, a local real estate agent, saw the oil slick as a "challenge not a problem" despite slow property sales in the Mt Maunganui and Papamoa areas - 53 sales last month and 80 the previous month.
"We are pretty confident that things will settle down in a week or two or three," he said.
"There's a lot of emotion around but at the end of the day we just have to settle down and clean it up."
Shayne Donovan-Grant, a registered valuer for Quotable Value, said it was too early to say what effect, if any, the slick would have on property sales.
"It's been slow like the rest of the market. It's been steady but there's not a huge amount of activity."