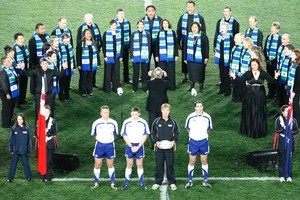 I was wondering if you could offer any insight as to why there have been security guards on the Harbour Bridge the past couple of weeks (since the RWC started)? Sam Robinson, Auckland, and Simon Priddy, North Shore.
An acquaintance involved in the security industry says the guards are there to prevent anyone jumping off the bridge. Guards are also posted at each end of the bridge to deter sightseers.
Can you tell me how many choirs have been used throughout the country to sing the national anthems in the various centres hosting RWC matches? Lyn Lester, Tauranga.
The choirs have each featured 30 local singers at each venue (Whangarei, Auckland, Hamilton, Rotorua, New Plymouth, Napier, Palmerston North, Wellington, Nelson, Dunedin and Invercargill).
They have performed at all 40 pool matches and the eight play-off games.
The choirs were a joint initiative between Rugby New Zealand 2011 and the New Zealand Choral Federation and were created after a series of workshops around the country to audition, select and train the choristers.
The Choral Federation held 12 workshops throughout New Zealand (in the host cities and towns and in Christchurch) and more than 1000 people auditioned for the chance to sing anthems at matches.
The choirs were backed by recordings of all 20 anthems by the New Zealand Symphony Orchestra. These recordings were made at Wellington's Michael Fowler Centre in March.
Elizabeth Marvelly, Nick Afoa, Ainslie Allen and Jonathan Lemalu sang the anthems at the two RWC semifinals.
Hayley Westenra and Will Martin will sing the national anthems of New Zealand and France at the final on Sunday.
On a recent stroll around the refurbished waterfront walkway, I noticed the large number of old silos still standing and wondered if they are ever used for anything? I have no idea how long ago they might have been built but my guess is that they are part of the original waterfront scenery. Have you any idea what may eventually become of them? I don't think they detract from the scenery but I would be interested to know something of their history. Incidentally, as an out-of-towner I felt the waterfront was a great place to enjoy the current RWC events. The money and work put into the refurbishing have been a good investment. Lorna Clauson, Papakura.
The 35m Golden Bay cement silo and the nearby "six-pack" of cement silos have been decommissioned but have been kept in place as a nod to Auckland's industrial heritage. The six-pack was built in the 1960s and was used to store up to 7200 tonnes of dry cement before it was distributed around the city.
I know of no plans to remove the silos but in the future they may be able to be climbed so that you can get a great view of harbour.
A new horizontal cement store has been built at Bledisloe Wharf to replace the old ones.