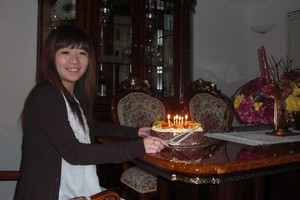 The Crown is wrapping up its case against one of the men accused of the brutal killing of Chinese student Jiayi 'Kiko' Li in May last year.
The High Court at Auckland jury was today shown a police video interview with murder accused Honglin Yu in which he claimed nothing untoward happened when he was hanging out with the 18-year-old the night she went missing.
Her stab wound-ridden body was found in the boot of her car in suburban Hamilton nearly two weeks later.
Yu, who refers to himself as Evan, told the interviewing officer he and Kiko became acquainted when she started going out with one of his good friends.
They used to get together at pool halls and karaoke bars in downtown Auckland, and he used to give Kiko driving lessons, he said.
On May 18, Yu said he and his friend Yongxin Li were playing pool when he got a text message from Kiko saying: "can you come and tell me how to drive? I'm already driving by myself''.
Yu said he told the inexperienced driver "don't be crazy'' and went to meet her.
They picked up two other friends who they drove to a tow truck yard so they could pick up their car before Yu dropped Kiko off at her apartment and then went home to bed, he said
The Crown allege Yu and Li killed Kiko for money, claiming Yu tried to withdraw cash from Kiko's bank account at two different cash machines in Auckland but was unsuccessful because he didn't know her pin number.
One intercepted text messages allegedly from Yu to Li in the days leading up to Kiko's disappearance read: "kidnap whoever is rich/ Whoever has money ... Kill the hostage as soon as getting the money.''
Yu was probed about whether he knew Kiko came from a wealthy family in the interview with Detective Daniel Phillips, but the accused replied with a firm "no''.
"We didn't talk about money.''
Yu said he had been in New Zealand on a student visa for the past four years and had attended various language schools, and most recently studied information technology at Queens Academic Group in central Auckland.
His parents gave him about $20,000 a year to pay for his board and living expenses, which he said was enough to get by on.
Li pleaded guilty to murdering Kiko and has been sentenced to life in prison with a minimum non-parole period of 16 years.
Yu's defence case will get underway tomorrow.

- APNZ