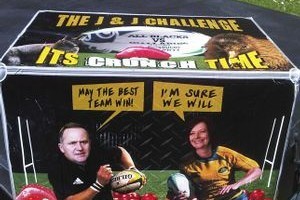 Hawke's Bay apple producer Apollo made a cheeky but tasteful offer to Australian Prime Minister Julia Gillard for the Rugby World Cup semifinal between the All Blacks and Wallabies.
Apollo's director, Bruce Beaton, packed a carton of New Zealand Queen apples and asked Napier MP Chris Tremain to transport the fruit to Prime Minister John Key's house in Auckland at the weekend.
"The idea was that if Julia was over watching the rugby with John in Auckland, she could have a tasty New Zealand apple to munch after the game," Mr Beaton said.
It was likely, however, that Ms Gillard was watching the demise of her national rugby team from the comfort of her home in Australia.
"We called the [carton of] apples, 'crunch time'. It was just a light-hearted look with a serious message that we hoped she would enjoy the fruit."
Last week, the first sea-freight container of New Zealand apples exported to Australia arrived just in time for the Cup semifinals.
Mr Tremain said the two prime ministers had made a wager for the NRL grand final between the Warriors and Manly, which went in favour of the Aussies, and John Key had to hold a press conference in front of an Australian flag.
This time, the bet was over the outcome of the World Cup semifinal between New Zealand and Australia, played last night.
"The deal was the losing Prime Minister would have to take a bite from either a New Zealand apple or Australian apple, depending on the outcome."
For more articles from this region, go to Hawkes Bay Today