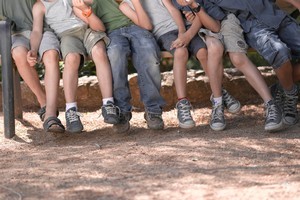 A Salvation Army survey has found that at least a sixth of the children in one part of Mangere are living in overcrowded houses.
The door-to-door survey of 876 of the 1062 homes in Harania West, around Buckland Rd in Mangere East, found 13.4 per cent of all residents living in homes that are at least one bedroom short of the number required to meet international standards.
Children are most likely to live in overcrowded conditions, with 17.1 per cent in overcrowded homes by the same measure.
The standard is based on a Canadian definition that there should be no more than two people per bedroom. It allows sharing a room for couples, any children under 5, and children aged 6 to 17 of the same sex.
The survey found a slight increase in the average number of people in each household since the 2006 Census. Homes with only one or two people shrank from 28 per cent of households in the Census to 19 per cent today, while those with four or more people increased from 59 per cent to 66 per cent.
But co-author Alan Johnson said the number of overcrowded homes was virtually the same as in 2006, despite the fact that Auckland's population had grown much faster than the number of houses in the five years since then.
"We're just guessing where the [extra] people are, but they are obviously not in Harania West," he said.
The Salvation Army decided to do the survey after this year's Census was postponed until 2013 because of the Christchurch earthquakes. It chose Harania West as a fairly typical South Auckland neighbourhood.
Most of the increase in household numbers was because of a baby boom. The number of children under 5 jumped from 9.7 per cent of the area's population in 2006 to 13.5 per cent.
Older European residents appear to have died or moved out, dropping from 13 per cent of the population to 6 per cent. Pacific residents, who made up 69 per cent in 2006, increased to 74 per cent. Maori and Asians were stable at 18 or 19 per cent and 10 per cent respectively.
Most houses were rented, including 29 per cent in Housing NZ homes, 29 per cent with private landlords and 3 per cent in council pensioner housing. A further 39 per cent owned their own homes.