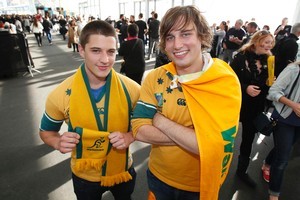 Australians Henry Halley and Tom Coppola almost didn't make it to the game last night.
The 22-year-olds made the over-confident mistake of many of their countrymen and ended up with tickets to Saturday night's semifinal between Wales and France.
"We had bought tickets to all the pool matches and semifinal number one," Mr Coppola said.
"Losing to Ireland screwed that up a bit," Mr Halley added.
Australia's shock loss to Ireland in pool play teed up last night's All Blacks v Wallabies showdown - a game many called the real cup final.
Fortunately, Mr Coppola and Mr Halley managed to swap their tickets with Welsh fans, who also had tickets to the "wrong" semifinal.
"We didn't really want to go see Wales play France," Mr Halley said. "So we put the tickets up on eBay and were able to swap with a Welsh guy who had also bought tickets to the wrong semi."
The pair were among thousands of revellers at the waterfront last night for a few pre-match drinks, while thousands of others stayed on Queens Wharf to watch the game on big screens.
By yesterday afternoon, Queen St was packed as black tops mingled with green and gold.
Queens Wharf closed with 12,000 capacity about 7.30pm and Captain Cook Wharf was opened to handle the overspill.
Fans queued to see a 10-minute film presentation inside the giant inflatable rugby ball. Whether it was inside the facilities or outside in the sun, black was the clothing of choice.
More than three hours before kick-off fans secured spots near one of the many big screens, and inside the Cloud the atmosphere was electric.
Mr Coppola and Mr Halley, both from Sydney, made the trip across the Ditch over a month ago and have been to every Australia match.
They planned the trip more than a year ago and have been winging it ever since.
Instead of paying for flights from city to city, the two found a cheaper option.
"We bought a little van, been sleeping in it and following the Wallabies. We got a map out and we planned where the matches would be," said Mr Halley.
"We had no idea what we were going to do in between but every day we've found something. It's just gone so fast."