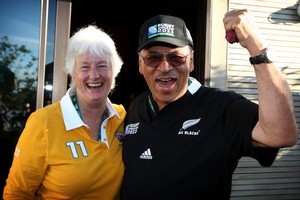 When Melburnian Helen Ohia married her Kiwi husband Tom 10 years ago her education in rugby union and transtasman banter began.
The couple, dressed in Wallaby and All Black jerseys, were among thousands of fans in gold and black at last night's semifinal at Eden Park.
Mrs Ohia said the phone had rung hot over the years after All Black victories over Australia.
"Tom is one of 11 [siblings], and his mother and father are still alive, so I put up with it all the time," Helen said.
"I just bide my time, and then it comes to be my turn. I get my chance every now and then and I make the most of it."
Mr Ohia attended the previous two Rugby World Cups and said, despite those heartbreaks, the trips were always worthwhile.
"I was in Wales when they lost. But you know, a couple of hours afterwards I thought, 'well, there's a good atmosphere here, let's get out and enjoy it'."
The couple, over from Melbourne for the World Cup finals, said they had been blown away by the way Kiwis had got behind the tournament.
"Every time you get out or pull over in the car, it's embraced," Tom said.
"I'm just so rapt to be a Kiwi."
Peter and Jill Hammond spent thousands of dollars to attend the previous two World Cups and said yesterday's journey from Palmerston North was more convenient.
Mr Hammond said New Zealand's size and obsession for rugby had given this tournament an edge. "When we were in Paris, most of Paris didn't even know the Rugby World Cup was on.
"Here everyone does, and that's the difference. It's got a completely different vibe and feel about it."
The couple wore their All Blacks 2007 Rugby World Cup jerseys last night and said the result in that tournament was hard to stomach.
"We walked to the stadium [in Cardiff] in absolutely party mode. And we walked back and nobody spoke," Mrs Hammond said.
But they still attended the semifinals and final and said it was crucial to cling to perspective at such times.
Sakkie and Caron Koekemoer, two of many Springbok fans in last night's crowd, will attend next week's final despite their team's quarter-final elimination and said they were still looking forward to "some cracking rugby".
Mr Koekemoer was in France for the 2007 World Cup, won by South Africa - but only for the pool matches.
"This time I said, 'okay, I'm coming towards the end'. Because I thought [the Springboks] had a chance."