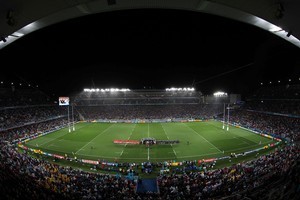 Around 3000 last-minute Rugby World Cup fans have streamed through Auckland International Airport arrival gates over the past two days - but many have to be back at their desks tomorrow morning.
Sydney-siders Frank Lorenzetto and Bruce Thompson flew in just ahead of the France-Wales semifinal and will watch Australia play against New Zealand tonight before catching a few hours sleep and jumping on the first flight back tomorrow. They said they planned to do it all again next week for the grand final.
"We pick up two hours going back, it's the only way it's possible," Lorenzetto said.
"Someone has to do it," Thompson joked.
Kenya Rugby Union chairman Michael Muthee spent more than 30 hours in transit to watch the games.
"I'm knackered, but I'm looking forward to some very good rugby," he said after landing yesterday. He had criss-crossed the world to be in Auckland.
"The All Blacks have been playing brilliantly but you can expect anything from Australia."