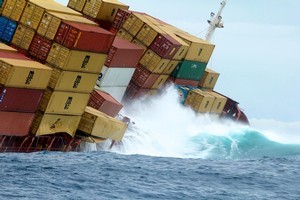 This is the closest look the public has had yet of the stricken container ship Rena.
The images were captured by a photographer who got close to the grounded ship off the coast of Tauranga.
They reveal the severe listing of the ship - and the massive rift in the side of the vessel.
Maritime New Zealand salvage adviser Captain Jon Walker had been out on the water next to the ship and said there was an "unnerving" sound of steel ripping against steel.
Aboard, salvage workers from around the world were trying desperately to pump the remaining 1346 tonnes of oil off the ship before more bad weather hits this week. None was removed yesterday and with the oil dense like Marmite, an Archimedes screw pump is in place for today.
Seven salvage workers and two industrial chemists boarded the ship yesterday amid dangerous conditions.
Rena was sitting on a 21 degree list on the Astrolabe Reef, and was at the mercy of the elements.
Stacked containers aboard the ship formed a towering mass which dwarfed observers.
"The containers themselves are not so big but when they are stacked up on one another and the vessel is moving, the whole tower tilts," Walker said.
"You can see the containers bending on up over top of you."
Workers had to put up with constant noise around them. "You can hear rock ripping against steel. But when you get inside you can hear lots of groaning of steel against steel and the movement of the containers. It's quite unnerving."
On shore, frustration was mounting among locals whose desire to help was being blocked by official channels.
Resident Rob Hooper said he registered as a volunteer with Maritime New Zealand on Wednesday but never heard back.
Tay St dairy owner Pete Grinrod had heard of about half a dozen people with the same story. He said some locals had gone down to the beach with buckets and boots anyway, only to be told to leave. "It's our little piece of paradise and we want to help."
Plastic bags of collected oil have started to appear next to public bins.
One local resident, who wished to remain anonymous, said he'd seen people cleaning the beaches in the early hours of the morning, before beach patrols started, and dumping bags.
Approximately 4200 volunteers had registered with Maritime NZ, and about 2000 were involved in clean-up efforts across the area yesterday.
Papamoa Beach appeared to have the most people working on it.
Environment Minister Nick Smith said about 70 per cent of the beaches had been cleared by the end of yesterday.
- APNZ