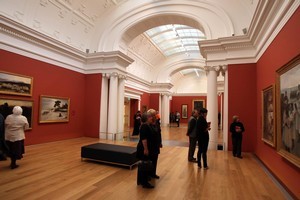 Any would-be Pink Panther-style art thieves should take note: the Auckland Art Gallery is watching.
The newly opened gallery, which has attracted more than 100,000 visitors in just six weeks, spends more than $1 million a year on security and insurance to keep its collection safe.
Director Chris Saines said the security measures were in line with world-famous galleries such as the Tate in London and New York's Museum of Modern Art.
"Security is of paramount consideration," he said.
"We don't discuss specifics, but it's an extremely sophisticated building in terms of the provision of electronic security."
He said only a few people knew precisely what the system entailed.
Dozens of CCTV cameras monitored the gallery and Saines said they had extra guards to bolster the 17 full-time security personnel.
"We are receiving more than double the number of visitors to the art gallery that we had expected. It's just responding to visitor demand."
Works by Picasso, Cezanne and Salvador Dali are on display at the gallery until the end of October.
One security expert said the "low-key" security presence at the gallery masked a major behind-the-scenes operation.
Paragon director Ron McQuilter said: "You are balancing the public access and movement with extreme security".
He said the gallery was likely to have understandings with police and Customs should any artworks get stolen.
"You would like to think that if I pick up a Picasso, the bells and alarms are going to go off."