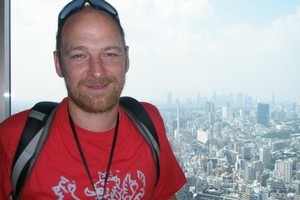 A "unique and very special" Sky TV worker who died after an alleged assault outside an Auckland bar last weekend was laid to rest today.
Hundreds of friends and family members paid tribute to Billy Dawson, 34, who suffered a fatal head injury after enjoying the Rugby World Cup atmosphere in the Viaduct on Friday, October 7.
Former colleagues told the emotional crowd gathered at Harewood Crematorium in Mr Dawson's home city of Christchurch that Sky TV "won't be the same again".
The mourners packed out the large chapel and spilled over outside, with loud speakers relaying the tributes inside from family and friends.
The extra-long wooden coffin for the 6-ft 7-inch Dawson was topped with flowers and was carried inside the chapel by six pallbearers to the Jimi Hendrix song, Angel.
Celebrant Richard Roberton led the touching 50-minute service for the music-loving man he described as being "quite unique and very special."
His brother Sam Dawson spoke on behalf of the immediate family. He said: "Everything about Billy was big. He was 6ft 7in, he had big hands, big head, big smile, big heart. Everything about him was big.
"Over the last few days, more than one friend has commented on his constant struggle to find shoes to fit his Ronald McDonald feet.
"It's absolutely fitting that there's a large crowd here today. It is very much a testament that people gravitated to Bills wherever he went. There are many reasons for this: his smile, his honesty, and sense of humour.
"We were all in awe at how many people came through the hospital that day to pay their respects to Bills and the family. His life was his friends and family."
Dawson was born in Christchurch in 1977, studied at Christ's College, and lived in Auckland where he had moved for work.
His brother-in-law, Coen Lammers, said Dawson, a respected member of Sky TV's back-room production team that covers live sporting events, specialising as a replay operator, was taken too soon.
Mr Lammers said: "Billy knew what was important in life: having fun, and looking after your friends and family.
"His amazing journey finished far too early but, boy, did he have fun doing it."
Nick Fleetwood had been friends with Dawson for more than 24 years after meeting him during trials for the Christchurch under-10s rugby team.
He described Dawson as "a happy man" who made the best out of every situation.
Mr Fleetwood added: "When Billy was at a party or a place, you knew it was going to be a great time."
Dawson had recently won a freelance contract with Channel 7 to work on the Australian broadcaster's coverage of the 2012 London Olympics.
After negotiating his own deal, he also secured Olympic work for about 10 of his Sky colleagues.
One of his workmates, Sam Brown said: "Sky won't be the same again without your big heart, big grin and big hands."
Dawson died on Friday, October 7. The circumstances surrounding his death are being investigated by police, while three men have already appeared in court in connection with the incident.
As he was leaving the Spy Bar last Friday, Dawson was punched in the face, causing him to fall over, sustaining a fatal head injury, a court heard earlier this week.
After the incident, he was rushed to Auckland Hospital but died hours later.
Kit John Murray appeared at Auckland District Court on Thursday charged with assault. He was denied bail, and police indicated more serious charges could be laid.
Judge David Burns said it was clear there was some kind of "altercation" between Mr Dawson, Murray, and Murray's two co-accused - Mona Christo Feterika and Antoni Te Moko Rogers, who have also been charged with assaulting Mr Dawson. They have been granted bail.
Police prosecutor Sergeant Paul Wightman told the court police were reviewing CCTV footage and have talked to a number of witnesses.
He said: "The defendant, when interviewed, has placed himself at the scene, has placed himself in some confrontation with the victim.
"He says he pushed the victim. Other witnesses say they saw a punch."
All three men will appear in court again at the end of this month.
- APNZ