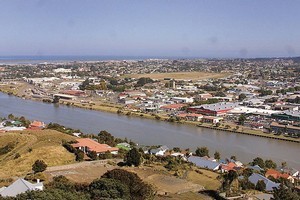 Whanganui iwi took a significant step toward the settlement of their 138-year-old Whanganui River grievances yesterday.
They signed a record of understanding with the Crown, listing items for discussion in their Wai 167 Treaty of Waitangi claim over the river.
The record of understanding comes before formal negotiations start. They are expected to begin early next year.
The record of understanding was signed in Parliament's ceremonial carved committee room, Matangireia. Present were Wanganui and Ruapehu mayors and chief executives, members of the iwi negotiation team Dr Brendon Puketapu and Nancy Tuaine, Horizons Regional Council's deputy chair Paul Rieger, and MPs Tariana Turia, Chester Borrows, Chris Finlayson and Nick Smith.
Dr Smith was involved because environmental concerns come high in any river negotiation.
Treaty Negotiations Minister Chris Finlayson said Government was committed to working with the iwi to ensure New Zealand's longest navigable waterway was in good health, and the mana of Whanganui iwi in relation to the river was recognised.
Whanganui River Maori Trust Board spokesperson Gerrard Albert said tribal negotiators had been meeting with people of the river and they were feeling positive about this next move toward settling their claim.
Any settlement would preserve public access to the river and have no adverse impact on existing property rights, those who signed the document said.
There are a lot of matters on the negotiations agenda, and Mr Albert said the care, use and protection of the river came first.
One matter is how the status and mana of the river will be recognised, and the mana of Whanganui iwi in relation to it also.
Another is how it will be managed as a whole, from mountains to sea. The parties involved in management will be the iwi, the Crown, local authorities and people in the catchment.
It may be necessary to change existing river management structures as a result of the settlement, and to appoint trustees to protect the river's health and wellbeing.
The parties will also come up with a set of values to guide future governance, and a strategy for integrated management.
Some of these matters are likely to have costs, and those will have to be discussed too. Mr Albert said financial redress was sure to come up, but it certainly wasn't the basis for the framework.
Local authorities, other iwi and stakeholders would all be able to have input into the negotiations, the signatories said.
For more articles from this region, go to Wanganui Chronicle