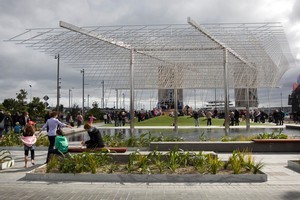 Waterfront Auckland has confirmed the children's playground at Wynyard Quarter is sitting on a development site and will be moved.
But chief executive John Dalzell said it would be relocated north of the gantry, about 200m away, once the land is vacated by the bulk liquids industry in 2016 at the earliest.
Heart of the City business group has raised the problem of the playground to highlight the issue of public space and development at Wynyard Quarter.
The playground is part of the first stage of the Wynyard Quarter development that opened in August to huge crowds and rapturous support from the public. But much of the open space west of Beaumont St, including the playground, is sitting on three development sites for buildings of up to three storeys.
Mr Dalzell said Waterfront Auckland would be very attuned to public sentiment when developing the sites, like it had at North Wharf where the refurbished red shed and new buildings either side had been limited to one storey.
Like North Wharf, where there is a three-storey building limit, buildings on the three development sites could be low-rise, he said.
Mr Dalzell said the draft waterfront and unitary plan process was the opportunity to pause and reconsider the future direction of the Wynyard Quarter. Public submissions on the draft waterfront plan close on October 25.
Heart of the City chief executive Alex Swney said the debate was about more than the playground. "It's about the zoning of the land down there and the way it's going to affect development over the next 30 years."
He said there should be no apartments on the headland, north of Jellicoe St, but an urban park with public buildings, structures and sculptures.
"The signature public building that is mooted for the Wynyard Point headland should not have apartments as neighbours. It should be set in a more generous park that Aucklanders will appreciate for generations."
ON THE WEBwww.waterfrontauckland.co.nz www.weonlygetonechance.co.nz