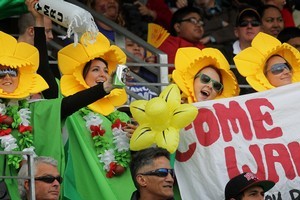 Across Wales, countless conversations over the past week have gone something like this:
A: "Do you reckon we'll beat France then?"
B: "Well, we should do - they've done nothing so far, and they weren't even that good against England."
A: "You're right - and once we get to the final, it's anyone's."
At that point, they generally break down as the participants suddenly realise just what they're saying: Wales could actually win the Rugby World Cup.
It's a fact that sits almost uncomfortably with most Welsh people, accustomed to decades of heroic defeats and the most fragile of successes.
Here we have a team with what appear to be the foundations for durable and sustainable success - bang-on form at exactly the right time.
Gone are the egomania and nascent self-destructiveness of the recent past, replaced by the humility and devotion to plain old hard work that have earned this team so many admirers, both here and out in New Zealand.
Put simply, the Welsh nation is in love with this Wales team.
At the time of writing, the Welsh Rugby Union was well on the way to handing out nearly 50,000 free tickets to watch the match on a big-screen in the Millennium Stadium at 9am local time.
Peter Stead, a long-standing biographer of Welsh rugby, told the Western Mail this week that, in his view, the feel-good factor surrounding the sport at the moment had surpassed even that experienced during the golden days of the 1970s, when Barry, Gareth, JPR et al were sweeping all before them.
What's changed now, he said, was an unprecedented level of inclusiveness: the entire nation - men, women and children - are entirely caught up in the euphoria generated by our unexpected level of success.
Whisper it quietly, but many knowledgeable rugby followers in Wales believed we would fail to qualify from the group stage. You won't find many willing to admit having ever held that opinion now.
That said, being installed as favourites to beat the French doesn't feel too comfortable. Generally speaking, we're a nation more familiar with playing the underdog - backing our boys against the army of international commentators writing us off. The fact they're now agreeing with us feels more than a little surreal.
Instinct - and experience - tells us not to assume anything until it's a reality. But common sense says we should beat the French. For once, heart and head say the same thing.
And then? It's anyone's ...