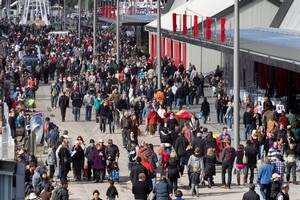 With all the international visitors in New Zealand, would it be a good time to remind people of the pedestrian guidelines which ensure easy flow on walking areas, such as walking on the same side of the footpath as the cars drive - the left-hand side.
I always understood this was the way, but cannot find it in the Road Code. Is it an "unwritten rule"? This makes for a much improved and considerate flow. In Europe their pedestrian flow works well as they all stay on the right-hand side, as cars drive on the right. Woe betide anyone who walks on the wrong side! Am I correct in this assumption? I am sure I was taught this as a child.Ann Perry, Takapuna.
I remember being taught this too. Where I grew up, there was even a line painted along the middle of the footpath in the main street, and you stayed to the left of it.
There is nothing in the Road Code about this, because, as the name indicates, the code is for drivers of various vehicles, not for footpath users.
I'm not even sure that walking on the same side as the traffic flow is a rule, written or otherwise, but it would make for easier passage, especially at busy times.
What is the council's plan for keeping the Wynyard Quarter "rubbish-free" during and after the Rugby World Cup? On our walk around last month we were impressed with everything - the layout etc looks great - but bins were overflowing, with rubbish spilled around the ground. And the bins were very few and far between.
There are going to be hundreds of people using this area, walking around, eating, drinking, etc. It will not be a good look if last week is the standard. Will there be dedicated staff around during this period to make sure the areas are kept clean at all times?B & B Ledingham, Auckland.
That's interesting, because at the weekend I saw plenty of rubbish bins, but maybe more have been installed since you were there.
The council's City Parks Services event clean-up team is responsible for keeping this and other event areas clean and tidy. It's a big job.
For example, on opening weekend, the Wynyard Quarter had 50,000 or so visitors. It's my understanding that every attempt will be made to keep Wynyard Quarter looking as good as it does now.
On a recent visit to Viaduct Harbour during the RWC celebrations, I noticed very colourful markings on the roadway extending from the intersection of Quay and Lower Hobson Sts through to the new Wynyard Crossing. Could you explain what they signify please?
John Mead, Freemans Bay.
I saw those too. There are strips of green and blue paint, interspersed with white strips and some numbers and letters. The green and blue represent land and sea (or sky) and the numbers, when read in order and carefully, indicate how far you are from points of interest.